Don't miss Fruitnet's free online annual event on 7 July to catch up with the latest analysis of key data and trends in the global avocado business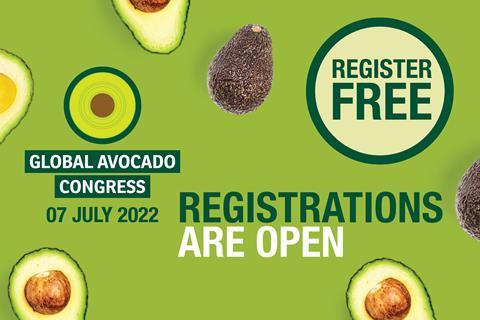 With just a month to go until the 2022 edition of Global Avocado Congress, Fruitnet has unveiled a high-powered programme exploring how companies are harnessing the power of innovation, knowledge and technology to support the growth of the global avocado industry.
Expert speakers will offer insights in all areas of the business, from new product development to marketing strategies, from production to post-harvest handling, and from brand-new technologies to emerging consumer trends.
Following the first track of Global Avocado Congress, streamed live from Melbourne by Fruitnet's Asiafruit editorial team, we turn our attention to Europe and the Americas, where key players in the fresh avocado category will be on hand to connect and share their experience and expertise.
We kick off with a detailed statistical analysis of the European and US avocado business, covering global production, trade flows and trends and consumption patterns in key markets, by Cindy van Rijswick of Rabobank.
Tom Verbakel of Nature's Pride, Paulina Theologou of Westfalia and Mark Everett of Worldwide Fruit ten take a closer look at how the business has changed over the past year, discussing opportunities and challenges for the global sector amid Covid, conflict and rising cost pressures.
Next, we shine a spotlight on sustainability, and the strategies employed by leading suppliers to minimise the environmental impact of their production. Westfalia's Johnathan Sutton walks us through the company's recently unveiled sustainability strategies, after which we take a closer look at how Colombia is positioning itself as a sustainable supplier to global markets.
Global Avocado Congress also brings you the latest developments from Africa. Kacem Benani Smires of Delassus will outline Morocco's efforts to build its presence in Europe, while Kakuzi's Chris Flowers give an overview of Kenya's increasing presence in the global market.
We also catch up with Ayanda Kanana, the newly appointed CEO of Halls Fresh Produce, about the company's ongoing international expansion.
The next session is all about how to minimise post-harvest losses to maximise profits. Patrick Flynn of Hazel Technologies, Benito Orihuel of Citrosol, AgroFresh's Carles Domenech and Marco de Jong of Experience Fruit Quality discuss how improved post-harvest treatments and better quality-control processes are boosting the quality of fresh avocados and making the sector more sustainable.
Finally, we head over the pond to the US to explore how much more room for growth there is in the market with Emiliano Escobedo of the Hass Avocado Board and Naturipe's Andy Bruno, before Ron Araiza of Calavo Growers rounds the programme off with a presentation on new opportunities in processed avocados.
Join us on 7 July, when Global Avocado Congress streams live from Melbourne and London, allowing viewers to pick the most convenient time to take part live or to watch on demand.
To register visit www.avocadocongress.com