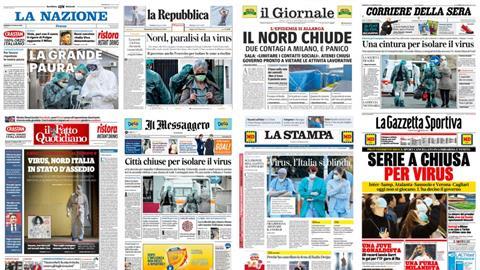 Mounting concern over the emerging coronavirus outbreak in Italy has sent shockwaves through the country's fresh produce business, leading to heightened demand in the domestic market as well as casting a doubt over how the country's export business might fare in the coming weeks.
At the start of last week, fevered media reaction to the quarantining of eleven towns in northern Italy is understood to have fomented major unease, prompting consumers to purchase an unusually large volume of everyday grocery items, including fresh fruit and vegetables.
'Supermarket sales were about double their normal level from the afternoon of Sunday 23 February right through to the end of Tuesday 25 February,' Germano Fabiani, head of fresh produce at supermarket chain Coop Italia, told Fruitnet. 'By Wednesday the situation was back to normal, but consumption levels remain slightly above average.'
The concerns do not appear to have dissipated entirely, however. 'Sales of all citrus products are a little above the average, which happens when there is a spike in influenza cases and therefore demand for Vitamin C,' Fabiani noted. 'In terms of products, however, we're not finding it difficult to find the necessary supply.'
In regions where schools have been forced to close, consumption is said to be higher than usual – mainly because families are eating more frequently together at home.
'On the contrary,' said Fabiani, 'canteens, restaurants and bars are not nearly as busy or even closed, so the horeca channel is suffering. We've also seen a slightly rise in the online business, which is still not that big in Italy, but which is an alternative for people who do not want to visit crowded places like shopping centres.'
For suppliers, cool heads and calm responses have been in high demand. 'The past few days have been rather frenetic, with orders in Italy increasing strongly because consumers have been scared into stockpiling and as a result have emptied the supermarket shelves,' said Fabio Zanesco, sales and marketing manager at South Tyrolean association VIP, a major international apple supplier. 'However, we have been able to increase step up our output in order to serve all of the different channels.'
Sales of products which tend to store for longer – apples, onions and potatoes, for example – are believed to have risen the most.
'We saw a massive increase in sales – even as much as double the volume – on Monday 24 February,' reported Rita Biserni, international marketing manager at Italy's largest fresh produce supplier, Faenza-based Alegra.
'In fact, the arrival of coronavirus in north Italy and the newspaper headlines especially meant people literally stormed the supermarkets, emptying all the shelves of fruit and vegetables, pasta and other essential items. However, by Tuesday the situation had returned to normal.'
Suppliers under scrutiny
As for Italy's hugely important fresh produce export trade, concerns appear to be centred around buyers' perception of Italian products in the wake of its much-publicised efforts to contain the spread of Covid-19, with suggestions in some quarters that certain supermarket chains might ask for additional certification in order to guarantee zero risk of the virus being spread.
In a press release, Italy's Ministry of Agricultural, Food & Forestry dismissed such suggestions. 'We are committed at all levels to averting the blockade of exports of Italian products,' it stated. 'It's a form of unfair practice which must be condemned and which must be immediately stopped. Additional certification requests for Italian products are not legitimate and tolerable, since there are no risks of transmission of the virus through food and packaging.'
While the debate over certification continued, it seemed other retailers were imposing other non-regulatory measures. 'We have not noticed a downturn in fresh produce export orders, but certain retail chains in northern Europe have taken measures at the point of delivery to avoid contact between the staff doing the unloading and Italian drivers,' Biserni revealed.
'At the moment there is some talk and some doubts,' Zanesco conceded. 'But we're not noticing any particular difficulties – no cancelled orders or serious problems. What we are seeing are requests from customers for information and clarification, but this is normal and legitimate.'
Michael Zagler, head of international sales at another major apple exporter Rizzi Group, admitted that temporary bans imposed on Italian visitors in certain countries was a discouraging sign for exporters.
'As you know, 12 countries have already banned entry for Italians,' he told Fruitnet. 'We have been exporting apples to some of these countries for many years, for example Kuwait, Qatar, Saudi Arabia and Israel. In addition to the entry bans for people, some countries have also considered measures against containerships carrying goods from Italy, but fortunately these have not yet been implemented. So far, we have already sold a large proportion of our apples and are looking forward to the coming weeks with confidence.'
Zanesco agreed that goods currently on the water bound for export markets could potentially face problems at their port of entry, although he had not seen any sign of this happening.
'So there will be some attention paid to those goods currently at sea, via container. If these were to be unjustifiably denied entry at the destination ports, this would be a serious problem, but as I said I have not seen mention of any such cases. We should react as a sector quickly, with knowledge and scientific data, to help bring the situation back to normal.'
For Zagler, the most concerning aspect of the coronavirus outbreak had been a lack of perspective shown by various people. 'In Italy, health authorities estimate around 60,000 premature deaths due to fine particulate matter in the air. Nobody talks about this and the media currently report a thousand times more about the coronavirus than about those who die because of fine dust pollution.
'The media should not just reproduce the opinions or statements of officials, politicians or business leaders, they should also educate.'
He added: 'To replicate an opinion word for word in a newspaper or online is not education. The current behaviour of many media on the subject of Covid-19 has certainly made a significant contribution to the current mass psychosis in Italy and beyond.
'I hope that, on the one hand, the coronavirus will not spread any further. On the other hand, I hope that politicians, directors, officials and all society will behave with common sense, so that we can return to normal as soon as possible.'