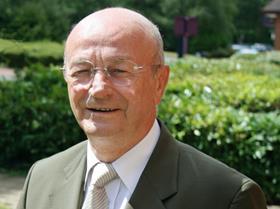 The European fruit and vegetables sector is mourning the death of Daniel Corbel, a man synonymous with French apples and the opening-up of new export markets all around the world.
Among his many roles in the business, Daniel served as chairman of exporter Cardell Export, president of Aneefel, chairman of Interfel's export committee and chairman of Freshfel's export division.
Announcing the news, Eric Guasch, who took over the presidency of Cardell Export in 2019, spoke of Daniel as a "warm, humane and passionate" man and commended his enormous contribution to the industry.
"As you all know, Daniel Corbel presided over Interfel for nearly 20 years, helping to distinguish the export sector for French fruit and vegetables, above all apples," he said. "From all around the world, those working in the sector have always praised his professionalism and dedication to the export business."
"Daniel was a fascinating, humble and humane person," added Daniel Soares, international marketing manager at Interfel. "It is to him that I owe my passion for this industry and for the men and women working in this profession. I will miss him dearly."
Stephan Weist of German retailer Rewe, who is currently president of the European fresh produce association Freshfel Europe, praised the work Corbel had done for the industry as a whole. 'Since the launch of Freshfel Europe 20 years ago, Daniel Corbel was very active in our association, always engaged to pave the way for European policy governing the fruit and vegetables sector, in particular to secure a competitive environment for exports,' he told Fruitnet.
'Daniel was never short of ideas and arguments to defend the interest of the sector towards policymakers, providing always professional insights to the business to shape policy,' Weist added. 'The fruit and vegetable sector has lost an excellent ambassador and one of its prominent and professional voices.'
Corbel was an active member of the Freshfel board from 2006 to 2016, taking on the role of vice-chair of its export division from 2006 to 2010, before leading the division until 2014. Freshfel general delegate Philippe Binard said he extended the group's condolences to their former colleague's family.
'Daniel was very influential when Freshfel Europe was created at the turn of the century,' he said. 'The fruit and vegetables sector is losing an excellent ambassador.'
Giuseppe Calcagni, chairman of Gruppo Besana and former president of Freshfel Europe, commented: 'I always admired Daniel for the fervour with which he defended not only French apple producers but European exports in general.I had the chance to have him by my side during my term at Freshfel Europe, and he was a great communicator and a witty analyst.We will all miss Daniel.'
Paco Borrás, chairman of the Export Committee at Freshfel, said: 'I served under him as vice-chairman of the Freshfel Export Committee for four years and he was a dear collaborator and a father figure to me in Brussels. I will remember his ever-present smile, his vision of Europe as a unit in the world and his continuous struggle to raise the value of the fruit and vegetables sector in the global economy. The sadness of never seeing his smile again is enormous."
Having started out as a docker in the port of Le Havre, Daniel soon became a shipping specialist. After that he joined exporter Blue Whale, before moving to the Pomanjou Group (now Innatis) as the head of its export subsidiary AFD Dipra, which merged with Cardell Export in 2004.
Innatis president Marc Rauffet said that Daniel would be remembered as a leader who always retained his humanity. 'As a member of the Innatis board, Daniel always shared his beliefs and strongly defended his opinions,' he revealed. 'This is why he has left such a significant mark on the French apple business. He was awarded the Legion of Honour not just for his outstanding work, I believe, but also for his conviction, his humanity and his sense of the common good, which brought everyone together.'
"Daniel started his career in apples at Blue Whale," recalled Marc Peyres, commercial director at French exporter Blue Whale. "In 2019, we invited him to our 50th anniversary celebrations, since there was nobody who embodied the French apple sector's remarkable journey better than Daniel. I have huge respect and admiration for what he accomplished, both for his business and for French growers, who owe him so much. I appreciate the man he was, and will fondly remember the good times we shared in different countries all across the world. We will miss him."
Daniel Sauvaitre, president of the French apple and pear association ANPP, said that the sector was losing its great tireless ambassador, praising Daniel for his part in conquering distant markets, including in the Middle East and Asia.
Chris White, managing director of Fruitnet Media International, commented: "Daniel pioneered exports of French apples to Asia in the 1970s, and became their most vocal promoter abroad. Daniel had discovered Asia long before anyone else and was an enthusiastic participant of our events in Asia from the 1990s until now. Daniel was a great European and always a very proud Frenchman."
The funeral is set to take place on 13 January in Les Taillades in southeastern France, with attendance limited to family due to Covid-19 restrictions.