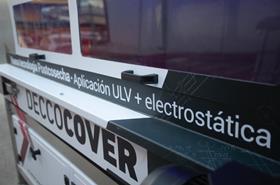 Fruitnet catches up with Robert Lynn Oakes, global marketing director at postharvest specialist Decco, to discuss how the company's role has evolved to meet the demands of the fresh produce sector.
Decco has been providing post-harvest solutions to the global market for almost a century. How have the needs of the sector changed during that time? What challenges do producers and exporters face today to which Decco offers solutions?
Robert Lynn Oakes: Producers and exporters today face the challenges of meeting consumer demands for year-around supply of the safest, highest quality traditional and exotic fruit and vegetables at the peak of flavour, appearance and freshness maintained during storage, shipment, at retail and in the kitchen.
At the same time, all along the now global supply chain, both human and plant pathogens, dehydration, and accelerated respiration present a threat to consumer health, to freshness and to quality expected by retailers and Consumers.
Decco's understanding of these and other loss parameters along the supply chain, our experience with packers/shippers, exporters and retailers have enabled us to identify solutions. Our years of postharvest experience allows us to offer the service and product solutions to conventionally grown or organic fruits and vegetables.
How has the company's role also evolved during that time? Would you say that the company has tried to extend its sphere of influence and become a safety food safety partner covering all the food safety needs of a producer?
RLO: We have always been a food safety partner and leader in the postharvest market and even more so today as the concern with often life-threatening human pathogenic bacteria and foodborne viruses threaten our food supply.
Today, Decco has more innovative tools to ensure the safety of fruit and vegetables including advanced gaseous ozone delivery (ArcAqua), H2O2 slow release sachets for containers, cartons and cold storage (ChillSafe), Nexy bio-fungicide, FullCover/ Deccocover electrostatic application equipment, remote monitoring of dosing equipment and much more. Food safety is one the key pillars of our postharvest services.
Retailers increasingly demand that producers and exporters make less use of active materials. How can the company help producers meet these challenges?
RLO: We are developing series of new biological control agents which can be used as part of zero-residue and organic programmes and enable packhouses the option to reduce or replace traditional chemistries.
These biological agents include naturally occurring microbes that compete with plant pathogens on the fruit surface acting preventatively during storage to reduce decay either alone or in combination with current chemistries.
We also have in development other biological agents with directly act against plant pathogens, naturally occurring antimicrobials, natural plant extracts that themselves are biocidal and GRAS-listed chemistries which are part of our zero residue programs. Decco's collaboration with various research institutes, universities and start-ups has given us access to global leading-edge solutions.
Tell us about some of the latest additions to Decco's product line-up.
RLO: FullCover, an electrostatic application system and Deccocover, a ULV + electrostatic application system are two important technologies which enable effective "dry application" of various postharvest products including fungicides and coatings products.
FullCover is already widely available in Latin America and in use in blueberries, avocados, tomatoes and other crops.
This newly introduced technology matches well with Decco's Naturcover edible nature-base coatings which extend shelf-life, reduce respiration rate and works at coldstorage room and retail room temperatures without the additional of solvents such as ethanol and is fast-drying. Major packinghouses are already using FullCover + Naturcover for export blueberries with excellent results.