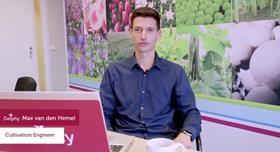 Digitisation will play a key role in the greenhouse of the future as growers take plant and climate analysis to the next level, according to Delphy.
Consultant Joris Mulders and cultivation engineer Max Van den Hemel spoke at the Global Tomato Congress this week to outline the work the company is doing in developing digitisation strategies and technologies to help producers of tomatoes and other crops. The company has created a department called Delphy Digital to help managers better analyse their cultivation data and improve their crop management.
Delphy Digital is based in Bleisweijk in the Netherlands and currently has six employees. The business focuses on domain knowledge, data science and software development and its main objective is to "assist and stimulate growers to implement digitisation in their current cultivation process on a daily basis," according to Van den Hemel.
The business has developed a series of models and tools to help growers optimise their cultivation, including the Delphy Dashboard, a platform that combines a grower's key data in one central place, and a Quality Management System to help cultivation planning through accurate forecasting, light analysis and climate monitoring.
A climate profiler developed by Van den Hemel is a machine-learning model that uses weather forecasts to advise on the optimal climate for the coming 24 hours, offering strategic tips on key points such as ventilation and heating temperature.
Delphy has also established an Improvement Centre – a modern greenhouse facility where new cultivation concepts and technical installations are developed and demonstrated – and the firm is currently running a trial called The Road to Digital Green Fingers. Here, experts are gaining insight into photosynthesis, water uptake and assimilate partitioning with the aim of developing an integral measurement system as part of the overall crop management process. Technology being trialled includes load cells to measure the total weight gain of a plant, stem diameter sensors and microclimate sensors.
"All these components integrated together will bring us to autonomous greenhouse management," said Van den Hemel. "To make this business model efficient, scalable and sustainable, a digital greenhouse ecosystem should be created."