Executive chairman Carl McCann says the company is pleased with its Q1 results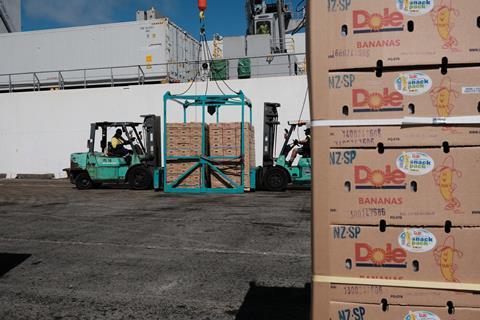 Dole has released its financial results for the three months ended 31 March 2022, with executive chairman Carl McCann highlighting the "resilience" of the group's business model.
Revenue for the three-month period doubled from US$1.1bn in 2021 to US$2.2bn, primarily driven by the impact of revenue from Dole Food Company following the acquisition by Dole plc.
On a pro-forma comparative basis, revenue decreased marginally, primarily due to a decrease in fresh vegetables resulting from the value added salads product recall in January and February 2022, and negative foreign currency translation movements which together accounted for a US$112m impact on revenue.
Adjusted EBITDA for the first quarter increased to US$81.5m, Dole said, while on a pro-forma comparative basis it decreased.
Meanwhile, adjusted net income for the first quarter was US$28.2m, compared to US$25.9m in the prior year, and US$58.8m on a pro-forma comparative basis.
The group turned in a net loss attributable to Dole plc of US$1.4m, from a net income of US$21.3m in 2021.
"We are pleased with the result that the group has delivered for the first quarter of 2022 particularly as we were impacted by the value added salads recall and foreign currency translation movements in the quarter," said executive chairman Carl McCann. "Our diversified business model has once more proven itself to be resilient.
"For the 2022 financial year, we are now targeting revenue in the range of US$9.4bn to US$9.7bn and adjusted EBITDA in the range of US$350m to US$370m."
Dole explained that the reduction in targeted adjusted EBITDA was primarily due to a slower than anticipated return to full operating profitability in its fresh vegetables segment and a more negative foreign currency translation impact on translation of euro earnings to US dollar.
"The geopolitical situation in Ukraine and Russia is ongoing and as such it remains difficult to accurately predict what overall impact this may have on global trade flows, cost inflation and foreign exchange rates, and how this might impact the group over the remainder of this financial year," it added.