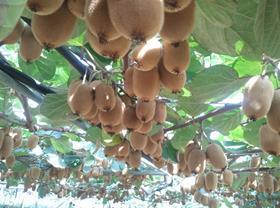 French kiwifruit marketer Sofruileg is continuing the expansion of its varietal portfolio with Haewon, a new early-harvesting green kiwifruit variety.
Haewon was selected by the fruit research institute of Jeonnam Agricultural Research and Extension Services (JARES), located in South Korea.
The variety can be harvested 30-40 days earlier than the traditional Hayward variety, according to Sofruileg, allowing it to be marketed from October.
'Selected by natural means, Haewon is characterised by fruit with an attractive appearance, a sweet, flavourful flesh, a large size and a high potential yield,' the company stated.
The variety can apparently be stored for around 90 days in normal conditions and has reportedly shown good tolerance to Psa in experimental trials.
According to Sofruileg, Mediterranean production areas in France, the Iberian Peninsula, Italy, Greece and Turkey are set to be targeted for cultivation of Haewon, which is protected by Community Plant Variety Rights.