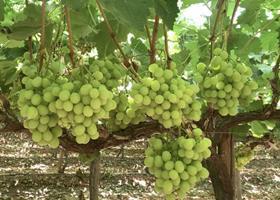 The main challenges facing Egyptian grape growers are no different to those experienced the world over. Global inflation, increasing energy prices and rising freight rates top the list, not to mention the disruption caused by the Covid-19 pandemic.
"Hopefully many of the supply chain issues that we have all faced due to Covid will ease soon," says Amr El-Beltagy of Egypt's Treetops Trading, a grower and exporter specialising in grapes. "But having said that, Egypt is still in a much better situation than many other suppliers."
El-Beltagy's family has a long tradition in agriculture dating back to 1960 in Egypt's Nile Delta, predominantly for grapes and other crops for the local market. In 1999, the family acquired new land on the Cairo-Alexandria desert road, a warmer climate more suitable to early production for the export market.
"This was our plan," says El-Beltagy. "And this was how we began producing grapes professionally for the export market. Since then, we have progressed steadily, planting new varieties that fit market trends and producing some of the best quality grapes in the country. For a long time we focused on the growing side, exporting our grapes indirectly through another company, but in 2017 we started exporting directly with our own company, Treetops Trading. We are proud to be supply some of Europe's most reputable retailers and importers in the UK, Netherlands and Germany."
The company's aim is to become a global player in the table grape industry, says El-Beltagy, "utilising Egypt's comparative advantage in grape production and creating new innovations from Egypt to share with the world'. According to El-Beltagy, Egypt's climate is one of its biggest advantages over some of its competitors, with relatively stable weather conditions throughout the year and rare extremes.
"Perhaps sometimes it can be a bit colder or warmer than normal, but it is never particularly extreme," he says. "Egypt can therefore offer more reliable supplies than many of its competitors, without the risk of shortages resulting from storms or excessive rain, which can seriously affect volumes and quality."
Egypt's strategic location, including its proximity to the European market, is another factor that gives the country an edge, El-Beltagy believes. "A shorter transit time to Europe is a great advantage," he says. "Industry leaders in Egypt are working non-stop to enhance this, by increasing the availability of faster vessels. This will put Egypt in an even stronger position in the grape business in the near future."
In addition to mainstream grape varieties like Flame, Crimson, Early Sweet and Sugra One, Treetops commenced a development project a few years ago to add new varieties to its portfolio.
"We started with early red seedless Starlight and mid-season black seedless Maylen," says El-Beltagy. "The development project is going well, especially since Egypt joined the International Union for the Protection of New Varieties of Plants (UPOV). We now see more prominent international breeders keen to provide Egyptian growers with the best varieties around. Treetops already has a few very special varieties, with seedlings booked for planting in 2023, and more to follow every year for the coming three years. We are proud of our good reputation and are currently cooperating with prominent international breeders to help us execute our plan."
According to El-Beltagy, competition in the table grape market is all about being able to provide the customer with the varieties they regard as "special and trendy". "The customer, in our case the supermarkets in the UK, Europe and Asia, want varieties that simply taste better, look better and have a longer shelf-life to give them more flexibility in the selling process," he says. "Moreover, growers need varieties that are less costly to produce and easier to manage, that offer higher productivity, better quality, bigger berries, better colouration and longer shelf-life to reach farther destinations."
Treetops Trading, he says, is also working to develop its whole operations with sustainability in mind. "Our aim is to minimise our impact on the environment," he explains, "decreasing our carbon footprint, utilising solar energy and moving away from plastic packaging materials. The world is changing very fast, and we all have to adapt quickly."