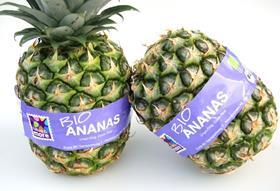 Dutch group Eosta's Nature & More quality assurance brand has announced the introduction of a new organic crownless pineapple, which is said to offer both environmental and consumer benefits.
According to the group, the idea has 'massive implications', reducing CO2 emissions because it enables the fruit to be packed more efficiently, while also offering a longer shelf-life.
'The pineapple crown is removed in Costa Rica and as a consequence more organic pineapples fit in a carton, which helps reduce the transport costs and the environmental impact,' the company explained. 'Why transport something that the consumer throws away anyway?'
The crownless pineapple is advantageous for consumers as it has an extended shelf-life, while the attached banderol label is easy to read and doesn't fall off of the fruit easily – both factors that make the organic fruit easy to distinguish from its conventional counterpart.
'On the banderol label around the pineapple one can also find the Nature & More grower stamp of Luis Carlos and Edgar Corrales,' Eosta added. 'A three digit grower code allows the consumer to 'virtually' visit these Costa Rican heroes through the Nature & More website.'