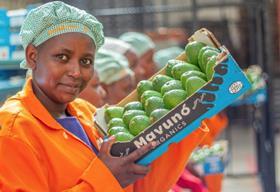 In 2020, Dutch organics specialist Eosta was the first to launch a Living Wage product in stores: Living Wage mangoes produced by Zongo Adama of Burkina Faso.
In order to ensure that Adama's 100-plus employees earned a living wage, Eosta asked its customers to pay 10 cents extra per kilo.
Now, a second product is set to be added to the range from March 2021: Living Wage avocados from Anthony Ngugi of Kenya.
In contrast to its mangoes, however, Eosta says customers will not be given a choice. If they want to sell Ngugi's avocados, they will have to pay a Living Wage price.
In order to be able to sell the avocados at a Living Wage price, an inventory of the incomes of Ngugi's 83 employees and the standard of living in Kenya was completed in the autumn of 2020, following the protocol of development organisation IDH, which provided an assessment method.
According to Eosta, the assessment was verified by an auditor, which is the first step towards formal certification of Living Wage.
"The study showed that an additional price of 2 cents per kilo of avocados was enough to offer the 83 employees a living wage for their families," Eosta stated. "Large retailers in Scandinavia, Austria and Germany have shown interest, but in the Netherlands, no retail chain has yet ventured to do so."
During the summer of 2020, Eosta sold over 100 tonnes of Living Wage mangoes. The amount raised was enough to cover 40 per cent of the wage gap for Adama's warehouse workers.