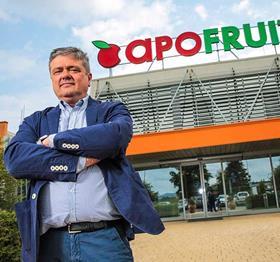 Ernesto Fornari has been appointed as the new general director of Apofruit Group, a leading supplier of fruit and vegetables based in Cesena, Italy.
The move sees Ilenio Bastoni step down from the role he took on in mid-2014, although it is understood he will continue as president of Canova, the group's organic produce subsidiary.
The Italian cooperative's board of directors said the new director would bring a wealth of industry expertise to the fore, as well as plenty of knowledge of how the company itself operates.
"Fornari has spent much of his career at various companies within the group," it said in a statement. "He offers solid experience and a deep understanding of how the production world operates, how the market works, and how to deal with the cooperative's membership base."
Hailing from the region of Romagna where Apofruit has its headquarters, for the past 23 years he has led Canova, which in 2019 generated revenue of more than 90 million euros.
With a network of collection and handling facilities in various regions of Italy, Apofruit sells a wide range of fresh fruit and vegetables to customers across Europe and overseas.
In 2019, it saw its revenues fall by around 5 per cent to €310m, largely as a result of a "drastic fall" in the prices it was able to achieve for summer fruit like peaches and nectarines. This was accompanied by a 12 per cent reduction in the volume of produce sold.