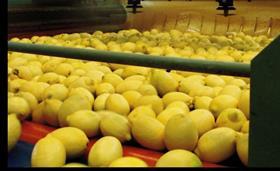 Spanish lemon and grapefruit interprofessional body Ailimpo has welcomed a decision by the European Commission to tighten controls on Turkish lemon imports following an increase in rejections at EU borders due to the presence of pesticides exceeding official EU limits.
Ailimpo described recent events as "an unprecedented situation, which confirm the deficiencies of the Turkish official control system on the marketing and use of plant protection productions".
From 23 November, the European Commission will increase the official control of Turkish lemons to 20 per cent (previously only random controls were carried out without a minimum percentage), so that one out of every five lorries of Turkish lemons entering the EU will have to be subject to strict border controls for pesticide analysis.
Announcing the move, the Commission said that "in the case of consignments of lemons from Turkey, data resulting from notifications in the RASFF and information on official controls carried out by Member States indicate the emergence of new risks to human health, due to possible contamination by pesticide residues, which require a higher level of official controls".
Ailimpo said the decision was necessary to "defend the interests of European consumers and strengthen the position of Spanish lemons produced under the highest standards of guarantee".