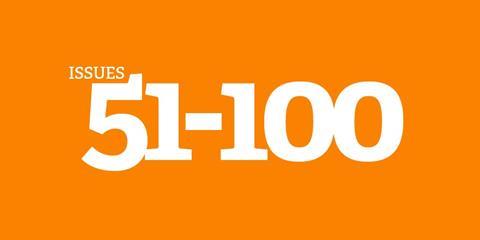 Eurofruit's 500th issue is due to be published at the start of November, a major milestone for a publication that has been reporting on news, trends and ideas in Europe's fresh produce business ever since the European Economic Community began to expand at the start of 1973.
Here, in the first of ten special timelines due to be published online between now and the first week of November, we chart some of the key developments in the European fruit and vegetable market. In total, we have selected one story from each of our 500 issues; below, you can read the first 50.
Timelines in this series:1-50,51-100,101-150,151-200,201-250,251-300,301-350,351-400,451-500.
To secure your copy of Eurofruit's 500th issue, please contactsubscriptions@fruitnet.com. Orview the entire magazine for free online here.
#1February 1973
Thefirst issue ofEUROFRUITis published by Fruchthandel and the Fruit Trades Journal to embrace opportunities created by the enlargement of the European Economic Community.
#2 March 1973
Green Week in Berlin attracts a record 500,000 visitors from 71 countries.
#3April 1973
Agrexco agrees to take over the marketing of Côte d'Ivoire's avocado crop.
#4May 1973
Egyptian citrus producers make a play for new markets in western Europe as exports are projected to rise from 175,000 tonnes to 500,000 tonnes in the next five years.
#5June 1973
Edeka opens Europe's largest citrus packhouse at the Port of Hamburg.
#6July 1973
It is estimated that strawberry production in Emilia-Romagna, Italy, will reach a record 100,000 tonnes in the 1973 season.
#7August 1973
Peter Smith of the UK's National Farmers Union visits Poland, Hungary and Bulgaria to analyse the threat posedto western European producers by cheap subsidised berry imports.
#8September 1973
The heads of two marketing boards, Outspan and the New Zealand Apple and Pear Marketing Board, slam British wholesalers for re-exporting fruit that had been allocated to the UK to the mainland Europe.
#9October 1973
A UK poll shows that 62 per cent of housewives buy their fruit at independent greengrocers, while supermarkets account for 21 per cent of sales and street markets for 19 per cent.
#10November 1973
Morocco suspends citrus exports to Europe for a week in protest at dumping by its competitors – principally Spain.
#11December 1973
Fyffes expands its European operations through a merger with leading French importer and distributor Ets Omer Decugis et Fils.
#12January 1974
Poland announces plans to double fruit production from 1.5m tonnes to 3m tonnes in the short term. Morello cherries, strawberries, raspberries and plums are all earmarked for growth.
#13February 1974
Ethiopia emerges as a supplier of winter vegetables to European markets, shipping 8,500 tonnes of peppers, courgettes, chillies and aubergines to Europe between December and March.
#14March 1974
German distributor Cobana celebrates its 10th anniversary.
#15April 1974
The New Zealand Apple and Pear Marketing Board invites a group of 60 European importers to a conference in Wellington as it seeks to diversify its export markets ahead of an expected explosion in apple production.
#16May 1974
British firm Mack makes its first foray into Europe with the purchase of a stake in newly-created Fibe Trade, an Antwerp-based company set up by Nicolas Fissette.
#17June 1974
British, Dutch, French and German glasshouse growers are forced to rely on government subsidies as an oil crisis sends production costs sky high.
#18July 1974
A report from the United Nations' Food and Agriculture Organization warns that a projected surge in global citrus production means supply will outstrip demand by 7.6m tonnes by 1980, sending prices tumbling.
#19August 1974
Turkey's invasion of Cyprus following a military coup disrupts produce shipments, creating a vacuum that exporters fear other Mediterranean producers will fill.
#20September 1974
French producers threaten to derail the EEC's Common Agricultural Policy in protest at low prices.
#21October 1974
EUROFRUITreports on trials in South Africa of a new technology developed by Canadian scientists to extend the shelf-life of fruits and vegetables by exposing it to gamma rays. Irradiation is born.
#22November 1974
In the Netherlands, Dutch lorry drivers block border passes and auctions to protest against the EEC's introduction of tachographs to control working hours.
#23December 1974
Ireland and Denmark level accusations that United Brands, marketer of Chiquita bananas, is exploiting its dominant market share, prompting the EEC Commission to launch an inquiry.
#24January 1975
Kenya overtakes the Azores as Europe's principal supplier of luxury Smooth Cayenne pineapples.
#25February 1975
EUROFRUITvisits the newly opened 55,000m2 International Fruit Centre at the Port of Marseilles, which reaffirms its position as France's biggest fruit port.
#26March 1975
A 16 per cent rise in European per-capita banana consumption since 1966 is attributed to the effectiveness of consumer advertising campaigns by United Brands and other multinationals.
#27April 1975
Ron Voller of the South African Deciduous Fruit Board reveals that the move towards containerisation is fuelling new developments in fruit packaging.
#28May 1975
EUROFRUITmoves from Fleet Street to Market Towers, next to New Covent Garden Market.
#29June 1975
The UK holds its first referendum on its membership of the European Economic Community, voting 67 per cent in favour of remaining in the trading bloc.
#30July August 1975
Spain's Pascual acquires 5,000ha in Brazil on which it plans to produce asparagus, peppers, grapefruit and lemons for seamless year-round supply.
#31September 1975
Interfrigo reports the first annual decline in traffic volume in its 24-year history.
#32October 1975
Annual banana exports from the Côte d'Ivoire reach 130,000 tonnes.
#33November 1975
Yugoslavia – the biggest plum producer in the world – launches a marketing campaign to bring the 'Slav plum' to Common Market consumers.
#34December 1975
The Council of Europe unveils a plan to eliminate the food mountains that have built up within the Community, which include a 230,000-tonne apple surplus.
#35January 1976
Cuba launches a strategy to become a major supplier of citrus to Europe during the Autumn.
#36February 1976
Spain sends its first ever consignment of oranges to Iran, sending 12,000 tonnes.
#37March 1976
Agrexco announces a 50 per cent increase in its export volume to 106,900 tonnes.
#38April 1976
The Egyptian government signs a US$47m deal with US firm International for Agriculture to plant orange and grapefruit trees in the Nile Delta.
#39May 1976
Rungis-based Georges Helfer Mignaton is named the exclusive importer of South African Westfalia avocados for Europe.
#40June 1976
Chile announces that it expects grape exports to reach 3.5m cartons as it continues to expand its role as a counter-seasonal supplier to Europe and other Northern Hemisphere markets.
#41July 1976
Citrus brand Outspan celebrates its 50th anniversary.
#42August 1976
Geest signs a deal with a group of major independent growers in Chile supplying citrus, deciduous fruit, avocados, strawberries and onions.
#43September 1976
ASK-Centralen's new terminal officially opens at the Port of Helsingborg, while in Italy Vog celebrates its 30th anniversary.
#44October 1976
California is in the grip of its worst drought since 1924, with the California Farm Bureau saying losses could reach US$1.6bn.
#45November 1976
A specialEUROFRUITreport on Corsica reveals clementine production on the island is forecast to climb from 15,000 tonnes to 35,000-40,000 tonnes by 1980.
#46December 1976
France launches a new early strawberry variety, Gariguette, with a 'long lifespan, good resistance to buffeting during transit and high productivity'.
#47January 1977
Figures show the Persian Gulf has become the third-biggest market for French apples after the UK and West Germany.
#48February 1977
The Port of Hamburg starts work on a new 700,000m2 terminal to further strengthen its dominance as an international hub for seafreighted fruit imports.
#49March 1977
Florida begins its recovery from the state's worst freeze ever, which wipes out 40 per cent of the citrus crop and virtually all salad production.
#50April 1977
The Deciduous Fruit Board announces plans for the first table grapes to be shipped on containers from South Africa next season.