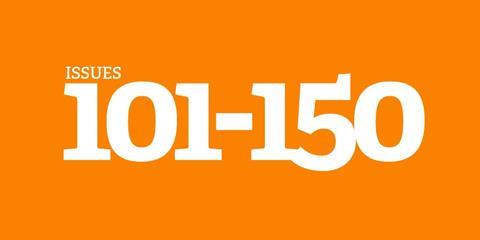 Eurofruit's 500th issue is due to be published at the start of November, a major milestone for a publication that has been reporting on news, trends and ideas in Europe's fresh produce business ever since the European Economic Community began to expand at the start of 1973.
Here, in the third of ten special timelines due to be published online between now and the first week of November, we chart some of the key developments in the European fruit and vegetable market. In total, we have selected one story from each of our 500 issues; below, you can see the top stories from issues 101-150.
Timelines in this series:1-50,51-100,101-150,151-200,201-250,251-300,301-350,351-400,451-500.
To secure your copy of Eurofruit's 500th issue, please contactsubscriptions@fruitnet.com. Orview the entire magazine for free online here.
#101July 1981
Europe's apple market is in turmoil as high volumes of Chilean and Argentinean fruit clash with stored European supply.
#102August 1981
A rise in easy-peeler production fuels a 24 per cent rise in earnings for the Citrus Marketing Board of Israel.
#103September 1981
A report on the European melon market reveals that demand is highly seasonal and there is huge potential to grow consumption during the winter months.
#104October 1981
US citrus giant Sunkist is reportedly mulling a move into new product groups, including potatoes, kiwifruit and Mexican mangoes.
#105November 1981
FTK Rotterdam's Achilles De Naeyer says more foreign travel and a rise in European immigration is fuelling the surge in demand for exotic fruits.
#106December 1981
Dutch fruits and vegetables are commemorated on a new 60 cent stamp.
#107January 1982
Saba Group sells SFI Rotterdam to its managing director Dirk Schulz.
#108February 1982
Prince de Bretagne reports that 1981 was a record year for globe artichoke sales.
#109March 1982
New Covent Garden Market welcomes its first arrival of Kenyan avocados, imported by JO Sims.
#110April 1982
The EEC announces a trade embargo with Argentina following its invasion of the Falkland Islands – just as the topfruit season hits its peak.
#111May 1982
Banana growers in the Windward Islands and Jamaica are on a state of alert after reports that a destructive new fungus disease, Black Sigatoka, is spreading northwards across Latin America.
#112June 1982
A new study by the US National Academy of Science says high consumption of fruits and vegetables can help protect against cancer.
#113July 1982
Turkey's government announces a US$40m investment programme to develop the country's fruit and vegetable exports, with the aim of becoming a major supplier to Europe within five years.
#114August 1982
France's biggest apple exporter, Blue Whale, announces plans to diversify into vegetables.
#115September 1982
Europe expects an all-time record apple crop of around 8.55m tonnes.
#116October 1982
Severe flooding in south-east Spain leaves 43 dead and causes more than £90m of damage to agriculture and infrastructure.
#117November 1982
A report by Mintel shows that supermarkets account for 38 per cent of fruit and vegetable sales in the UK, up from 16 per cent in 1974.
#118December 1982
Brazil launches a major marketing push for its exotic fruit offer in the UK.
#119January 1983
France celebrates its first apple shipments to South Africa.
#120February 1983
The first ever fruit consignment from Chile to the US shipped in refrigerated containers arrives in Camden, New Jersey.
#121March 1983
Italian trade fair Macfrut prepares to open the doors for its inaugural edition.
#122April 1983
Chilean grape exports to Europe are on course to smash through the 2m carton barrier for the first time.
#123May 1983
Cyclones in Central America and drought in Africa lead to a banana shortage in France, with ripeners operating at just 50 per cent capacity.
#124June 1983
The Polish and Czechoslovakian potato industries are under threat following reports of sightings of the Colorado beetle.
#125July 1983
Dubai completes work on its first commercial coldstore at Jebel Ali airport.
#126August 1983
The demise of English cherry production is blamed on poor management and a lack of rinvestment.
#127September 1983
Sinclair International develops a prototype machine to individually label fruit without damaging it.
#128October 1983
Archanes Credit Cooperative leads the charge to establish Cyprus as a major supplier of autumn grapes to the UK by starting a fast weekly service to Dover.
#129November 1983
Marks & Spencer teams up with Hunter Foods to produce a pioneering range of added-value fresh produce, which includes shredded mixed cabbage, mixed veg packs for casseroles and stir-fried vegetables.
#130December 1983
Tesco launches a freshly squeezed orange juice, with no added vitamins, minerals or preservatives, that it claims will revolutionise the £240m-a-year UK juice market.
#131January 1984
David Pearce of importer Albert Fisher predicts a 25 per cent rise in Chilean apple exports to Europe, to 5m tonnes.
#132February 1984
Agrexco enters into an agreement with Jamaica Agro Products to market non-competing, airfreighted produce.
#133March 1984
A new terminal for bananas opens in Bremerhaven at a cost of DM15.5m. Its capacity is 72,000 boxes per eight-hour shift.
#134April 1984
UK fresh produce company Mack announces plans to begin selling Spanish green asparagus in Scandinavia and Italy.
#135May 1984
British producer-exporter GS Shropshire teams up with 14 leading salad growers to establish G's Growers and sales agency G's Marketing.
#136June 1984
Almeria export assocition Coexphal confirms plans for a first ever campaign for Spanish yellow melons.
#137July 1984
Companies representing half of Italy's kiwifruit crop establish the Italian Kiwifruit Consortium.
#138August 1984
Mack Nicol of the New Zealand Kiwifruit Authority says the country is on target to produce 60m trays by 1990.
#139September 1984
The European Court of Justice prepares to hear two cases against Greek government-backed citrus company Agrex, accused of blocking imports and stifling export competition.
#140October 1984
The Dutch trade attempts to create a more uniform export identity by introducing new red-blue cartons. These also carry a thermometer symbol indicating optimum storage temperatures.
#141November 1984
Outspan reveals that its exports to the Far East have doubled in just one year to around 80,000 cartons.
#142December 1984
Zeebrugge is to replace Southampton as the first port of call for South African fruit consignments heading into Europe.
#143January 1985
Ryan Instruments has introduced a temperature recorder to protect shipments of fruit against poor cold chain management.
#144February 1985
New company Dole Citrus sets out to market around 12m cartons of citrus via newly acquired packhouses in Florida, California and Arizona.
#145March 1985
Sidney Garber receives the 500-millionth carton of Cape-branded fruit from South Africa on behalf of the UK produce trade.
#146April 1985
Following a recent trial, Australia starts sending Thompson Seedless grapes to Europe for the first time.
#147May 1985
Holland's Naaldwijk Research Station reveals it is experimenting with growing lettuce on water beds and increasing the sweetness of melons.
#148June 1985
Canary Island producers are unhappy with quotas due to be placed on their exports to Europe when Spain joins the EEC.
#149July 1985
Israeli marketer Agrexco says it is planning to test market a small, green-striped, yellow-fleshed watermelon, as well as a seedless variety.
#150 August 1985
New Zealand's fruit exporters agree to set up Fruitfed, a marketing entity to develop new markets in the Northern Hemisphere and Pacific region.