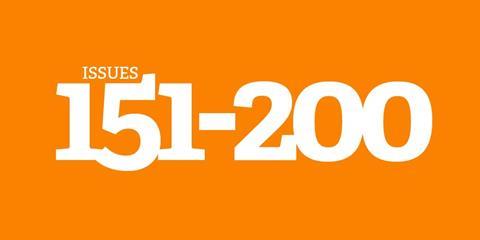 Eurofruit's 500th issue is due to be published at the start of November, a major milestone for a publication that has been reporting on news, trends and ideas in Europe's fresh produce business ever since the European Economic Community began to expand at the start of 1973.
Here, in the fourth of ten special timelines due to be published online between now and the first week of November, we chart some of the key developments in the European fruit and vegetable market. In total, we have selected one story from each of our 500 issues; below, you can see the top stories from issues 151-200.
Timelines in this series:1-50,51-100,101-150,151-200,201-250,251-300,301-350,351-400,451-500.
To secure your copy of Eurofruit's 500th issue, please contactsubscriptions@fruitnet.com. Orview the entire magazine for free online here.
#151September 1985
Ceremonies are held to inaugurate the new port of Zeebrugge as well as its Niew-Zeelandkaai and Kiwiweg areas, home to the new BNFW terminal.
#152October 1985
The Dominican Republic is planning to start shipping pineapples to Spain, France and other European countries.
#153November 1985
Spanish producer Quash, formerly Tierras de Almeria, is sold to an Arab business group and Panamanian company Urania Bussinis for £100m.
#154December 1985
Compagnie Fruitiere UK director Nigel Law oversees the company's relocation to Paddock Wood in Kent.
#155January 1986
Spain begins life in the EEC, with plans afoot to establish new trade cooperatives to achieve more coordination in export markets.
#156February 1986
California unveils a new red, white and blue logo featuring stars and stripes, to be used as part of its European promotions.
#157March 1986
The OECD predicts a 50 per cent increase in EEC stonefruit production between 1982 and 1987, boosted by an extra 500,000 tonnes in Spain.
#158April 1986
Belgium's vegetable exports have risen considerably since 1980: volumes to Germany rose from 5,000 to 85,000 tonnes, while exports to the Netherlands went from 16,000 to 45,000 tonnes.
#159May 1986
Year-round supply of European strawberries may soon be a reality as Spanish growers plant earlier varieties and the Dutch use new techniques to extend their season.
#160June 1986
Dublin-based Fruit Importers of Ireland takes the European fruit trade by surprise by acquiring Fyffes Group for a reported £26.5m.
#161July 1986
Consumption of Italian strawberries has been gravely affected by the Chernobyl disaster, which reportedly blew radioactive clouds over Emilia-Romagna.
#162August 1986
French firm Brousse-Cardell establishes a new import and marketing company in London called The French Produce Company.
#163September 1986
The ongoing trade spat over US citrus exports to the EEC seems to be coming to an end.
#164October 1986
Geest, the UK's largest fresh produce importer and distributor, celebrates its 50th anniversary and prepares for a public listing in late 1986.
#165November 1986
New Zealand's Apple and Pear Marketing Board withdraws from Southern Hemisphere topfruit organisation Sanza.
#166December 1986
Klaus Pape, Franz Dettenhofer and Dieter Ficke are promoted to the management team of German fruit company Scipio.
#167January 1987
The Citrus Marketing Board of Israel pins its hopes on new Jaffa-branded varieties including Sweetie, a green-skinned grapefruit.
#168February 1987
Auckland-based exporter Kiwi Harvest is to open a new European office in Antwerp, led by Rex Sunde.
#169March 1987
The South African Co-operative Citrus Exchange says it will test a new Ruby Red blood orange in Norway, Denmark and Finland.
#170April 1987
The construction of a new container terminal in Antwerp gets underway this month.
#171May 1987
Mass production of the so-called Freshtainer, a controlled atmosphere shipping unit designed for fruit, has started.
#172June 1987
The Netherlands' horticultural auctions celebrate their centenary, having sold 2.5m tonnes of fresh produce last year.
#173July 1987
United Fruit Company changes its name to Chiquita Europe.
#174August 1987
Fyffes is spending £2m on a new banana ripening centre near Leicester, UK.
#175September 1987
Herbert Scholdei of German importer T Port says he is 'very impressed' with the redeveloped Port of Zeebrugge.
#176October 1987
Unifruco replaces the DFB as sole marketer of South Africa's deciduous fruit exports.
#177November 1987
Newly formed Spanish export association Fepex appoints a permanent representative in Brussels.
#178December 1987
Graham Broomhall of Unifruco explains the group's decision to leave the Rotterdam auction system and appoint three panelists: Eurofresh, Van Den Brink and Velleman & Tas.
#179January 1988
Coca-Cola's plan to develop a US$120m citrus orchard in Belize has been shelved following opposition from environmental groups.
#180February 1988
A major restructuring of the Côte d'Ivoire's pineapple trade, which supplies more than 90 per cent of Europe's pineapples, is creating uncertainty among importers.
#181March 1988
German company T Port has expanded into Rotterdam with the creation of new company Cool Fresh, led by former director Marinus Overkleeft.
#182April 1988
US citrus marketer Sunkist trials individual labelling systems supplied by two companies, Hurst and Sinclair, with a view to possibly replacing its current ink stamps.
#183May 1988
The Washington Apple Commission has appointed George Smith, former Potato Marketing Board officer, as its UK promotions director.
#184June 1988
Del Monte has begun shipping Kenyan pineapples, mainly to southern European markets.
#185July 1988
Polly Peck International has acquired Dutch importer Jas Van Den Brink for £9.4m, US trader Prevor Marketing International for £6.7m and Valencia-based Frio Mediterraneo for £2.5m.
#186August 1988
The battle over the future of Europe's banana trade begins, with talk of a boundary-free European market by 1992.
#187September 1988
Blue Star Line of London and Hamburg-Süd division Overseas Freezer Operations are joining forces as Star Reefers to combine their reefer tonnage.
#188October 1988
Growth and consolidation of supermarket power is the main theme of this month's Eurofruit Congress in London.
#189November 1988
Dutch importer FTK Rotterdam, the first company to import NZ kiwifruit into Europe, changes its name to FTK Holland.
#190December 1988
Cypria, a new national brand for Cyprus fresh produce, is set to be promoted by a series of television commercials and a widespread outdoor poster campaign.
#191January 1989
The New Zealand Apple & Pear Marketing Board has acquired Belgian company Fibe Trade, which will be responsible for marketing NZ topfruit in Europe.
#192February 1989
After announcing annual pre-tax profit of £107.3m last month, Polly Peck International has purchased German importer Fruco and Californian distributor Mendelson-Zeller.
#193March 1989
Chile's fruit sector receives US$50m in compensation following a major scare over alleged sabotage of grape exports using cyanide.
#194April 1989
Dole is working with agency Springer & Jacoby to launch a pan-European advertising campaign for fruit.
#195May 1989
Food safety becomes a hot industry topic following a scandal over the use of growth regulator Alar in the US apple sector.
#196June 1989
Chilean complaints about the EC's new import licence scheme for Southern Hemisphere apples have been upheld by trade organisation GATT.
#197July 1989
Austria's night-time ban on heavy goods vehicles, aimed at curbing pollution, prompts consternation in Germany.
#198August 1989
A consortium called Isosceles secures control of the UK's largest retailer, Gateway, with a £2.2bn bid.
#199September 1989
Swedish importers tell Eurofruit they see their country's future membership of the European common market as 'inevitable' but potentially problematic.
#200 October 1989
Polly Peck buys Del Monte's fresh fruit business for US$875m.