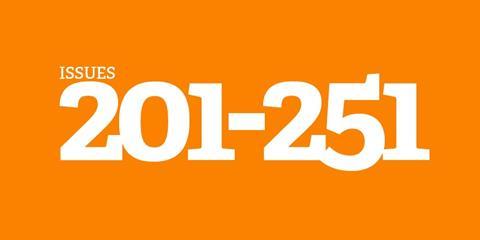 Eurofruit's 500th issue is due to be published at the start of November, a major milestone for a publication that has been reporting on news, trends and ideas in Europe's fresh produce business ever since the European Economic Community began to expand at the start of 1973.
Here, as we approach the halfway point in our special 500-issue timeline, we continue to chart key developments in the European fruit and vegetable market featured in each of our previous issues. Below, you can see what the key stories were in issues 201-250.
Timelines in this series:1-50,51-100,101-150,151-200,201-250,251-300,301-350,351-400,451-500.
To secure your copy of Eurofruit's 500th issue, please contactsubscriptions@fruitnet.com. Orview the entire magazine for free online here.
#201 November 1989
Fyffes appoints David McCann to the new post of group managing director.
#202December 1989
The fall of the Berlin Wall looks set to transform the West's fresh produce trading relationships with Eastern Bloc countries.
#203January 1990
New Zealand topfruit and kiwifruit marketing boards form a joint venture called NZ Fruit Boards to market fruit sales in Europe.
#204February 1990
Belgian importer Special Fruit reports strong berry sales in northern Europe, notably for NZ gooseberries, Colombian boysenberries and Chilean raspberries.
#205March 1990
United Fruit Company changes its name to Chiquita Brands International.
#206April 1990
Stuart Anderson is appointed chief executive of Del Monte Tropical Fruit Co's European operations.
#207May 1990
German produce distributor Scipio Group opens Atlanta Handels in Lepizig, while Chilean Exporters' Association appoints former executive director Ronald Bown as president.
#208June 1990
Upmarket British retailer Marks & Spencer says it plans to expand in France and Spain as well as moving into the Netherlands, Belgium and West Germany.
#209July 1990
Nine leading Spanish cooperatives and exporters belonging to Proexport have launched a new quality label called Declam.
#210August 1990
French consumers are showing strong interest in prepared salads, but some fear high prices are inhibiting market growth.
#211September 1990
French importer Malet Azoulay establishes a UK division led by exotics specialist Richard Wells.
#212October 1990
Florida citrus exporter DNE celebrates its 75th anniversary.
#213November 1990
With reported debts of £1bn, Polly Peck's future is in serious doubt after chairman Asil Nadir abandons a planned £2bn takeover.
#214December 1990
Trader Marketing Data makes Asda's retail point of sale information available to suppliers, a European first.
#215January 1991
Facing 18 counts of theft and false accounting, Polly Peck chairman Asil Nadir is in police custody having failed to meet bail of £3.5m.
#216February 1991
Breton exporter Kampexport becomes the first company to sell French cauliflower to customers in Poland.
#217March 1991
Israel's government terminates the Citrus Marketing Board's exclusive marketing rights, ending its monopoly on exports.
#218April 1991
Chiquita is to open offices in Poland, Czechoslovakia and Hungary, while the NZ Kiwifruit Marketing Board centralises its European sales operation in Antwerp.
#219May 1991
Growers in South Australia are using Everfresh, a new plastic film wrap made partly from volcanic rock, to keep fruit and vegetables fresh.
#220June 1991
The European market for organic food, currently valued at £943m, is forecast to grow by 25 per cent per annum over the next five years.
#221July 1991
Argentina's largest produce exporter, Expofrut, is aiming to ship 6.5m cartons this year as its partnership with German group Bocchi bears fruit.
#222August 1991
Chiquita Brands International reveals it plans to spend US$850m in 1991-1992 on new production areas and shipping vessels.
#223September 1991
Eurofruit launches Newsfax, a new weekly fax service delivering news updates from the world of fresh produce.
#224October 1991
A new 500m2 fruit handling centre run by Hamburger Hafen- und Lagerhaus has opened at the Port of Hamburg.
#225November 1991
Klaus Pape of German distributor Atlanta tells Eurofruit the firm has opened an office in Moscow to develop the USSR market.
#226December 1991
The creation of UK-based Fresh Fruit Services to coordinate logistics for South African exporters Unifruco and Outspan hints at wider consolidation in the supply chain.
#227January 1992
The Italian Exporters' Association is challenging the newly introduced Töpfer packaging regulation and refusing to pay recycling costs demanded by German retailers.
#228February 1992
Europe is to receive its first-ever shipment of bananas from Peru.
#229March 1992
Stonefruit growers in California are trialling a laser refractometer that allows monitoring of sugar and starch levels without damaging the fruit.
#230April 1992
Brussels remains the focus of intense negotiations over the future of the EC's banana tariff regime, with 38 leading industry players calling for a free market.
#231May 1992
Italian company Kiwi Uno is investing in Chilean production to ensure year-round supply for its customers.
#232June 1992
Washington state grower-exporter Stemilt is strengthening its position in Europe with the appointment of Steve Pauly as its regional representative, based in Belgium.
#233July 1992
German importer Cobana Fruchtring is looking to form new trade partnerships in Czechoslovakia, Poland, Hungary, Benelux, France and Norway.
#234August 1992
Tesco, the UK's second-largest food retailer, opens its first Tesco Metro store in London.
#235September 1992
Europe produces its largest apple crop for several years, leading to a crash in prices.
#236October 1992
UK firm Albert Fisher Group has completed its takeover of German fresh produce company Früco.
#237November 1992
Family-owned firm Univeg has acquired Van de Casteele, one of Belgium's largest fresh produce importer-distributors.
#238December/January 1992-1993
New trade fair Fruit Logistica opens its doors for the first time on 21-22 January in Berlin.
#239February 1993
Unifruco's Fred Meintjes tells Eurofruit the South African exporter's main market will remain Europe, despite planned expansion elsewhere in the world.
#240March 1993
Container giant Evergreen has started a new reefer service linking India to Europe.
#241April 1993
The EC has surprised fruit importers and their suppliers by introducing measures – including licences – to control the apple market.
#242May 1993
Fyffes has apparently rejected a multi-million dollar offer by Dole Food to buy the Irish importer.
#243June 1993
Israeli group Agrexco is developing retail promotions for products including seedless grapes, melons and mangoes.
#244July 1993
George Helfer reports strong sales growth for pre-ripened avocados in Switzerland.
#245August 1993
Banana prices in Germany have risen 40 per cent in some cases after the introduction of the EC banana regime's new tariff quotas.
#246September 1993
French tomato marketer Savéol says new collaboration deals with growers are making it easier to supply foreign markets.
#247October 1993
A group of South African exotics exporters and growers is lobbying the government in protest against Unifruco's JV with sub-tropical exporter Sikisa Trading.
#248November 1993
Five Chilean companies have formed a marketing and shipping alliance that will control 12 per cent of the country's fruit export volume.
#249December/January 1993-1994
The EEA comes into force, creating the world's largest integrated economic zone. Freedom of movement for goods, services, capital and people comes into effect.
#250February 1994
Hispafruit and Royal Van Namen merge to form one of The Netherlands' largest fresh fruit and vegetable companies.