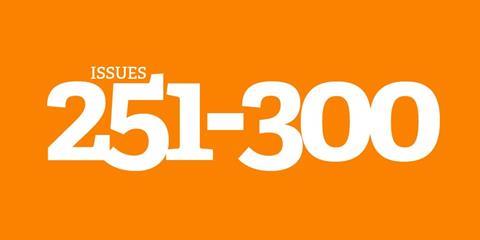 Eurofruit's 500th issue is due to be published at the start of November, a major milestone for a publication that has been reporting on news, trends and ideas in Europe's fresh produce business ever since the European Economic Community began to expand at the start of 1973.
We have selected one important story from each of our previous issues, giving you a snapshot of key developments in the European fruit and vegetable market during the course of our 44-year history. Below, you can see what the key stories were in issues 251-300.
Timelines in this series:1-50,51-100,101-150,151-200,201-250,251-300,301-350,351-400,451-500.
To secure your copy of Eurofruit's 500th issue, please contactsubscriptions@fruitnet.com. Orview the entire magazine for free online here.
#251March 1994
As recession continues to bite and a supermarket price war breaks out, the Fresh Fruit & Vegetable Information Bureau launches a new generic campaign to boost consumption in the UK.
#252April 1994
The Association of Dutch Fruit & Vegetable Exporters' new managing director Hans van Es says the country's role as a re-export hub is growing as demand for year-round supply grows.
#253May 1994
Following a successful trial, Chile is set to extend its first ever generic promotional campaign outside test markets Belgium, Germany and Scandinavia.
#254June 1994
The USDA has granted approval for the genetically altered Flavr Savr tomato, which does not produce a rotting enzyme.
#255July 1994
France's Bergeron leads a European revival in apricots.
#256August 1994
Dutch onion exporters target eastern Europe with media campaigns in Poland, Hungary, Bulgaria, Russie, Slovenia and the Czech Republic.
#257September 1994
Del Monte follows Dole and Chiquita by expanding into Chile to produce counter-seasonal fruit.
#258October 1994
Chiquita launches its largest-ever television advertising campaign across Europe, including a first serious attempt to build a brand presence in France. Meanwhile, Mike Port leaves Geest Belgium to become MD of T Port in Hamburg.
#259November 1994
Chilean blueberry exports grew by 87 per cent in 1993/94 to 188,000 trays.
#260December/January 1994-1995
Spain's top exporter, Anecoop, consolidates its position in European citrus following a trading agreement with Lütacofrucht in Germany and the opening of the IFS distribution platform in Perpignan, France.
#261February 1995
Capespan sets out on a new course after October's merger of Unifruco and Outspan's European operations.
#262March 1995
Buoyant domestic demand is expected to reduce Brazilian apple exports to Europe by a third.
#263April 1995
Eurofruit launches Asiafruit, a new publication for the Asian market.
#264May 1995
Fyffes takes a majority stake in Madrid-based importer Angel Rey, while Albert Fisher forms a new JV with Valencia-based Antonio Muñoz.
#265June 1995
Egyptian supplier Pico trials its first seafreighted shipments of seedless grapes.
#266July 1995
Former M&W Mack chairman Matthew Mack is made Chevalier dans l'Ordre du Merite Agricole for services to the Anglo-French produce industry – apparently 15 years late due to an admin error.
#267August 1995
Eight months on from joining the EU, Sweden sees its produce import prices rise.
#268September 1995
Belgian apple growers move away from traditional red and green varieties to invest in new Jonagold plantings.
#269October 1995
Belgian importers look to Peru as an 'exciting' new source of asparagus following the Latin American country's recovery from economic problems and civil war.
#270November 1995
Chiquita reveals it is planning to supply Europe with bananas sourced exclusively from Rainforest Alliance-certified plantations.
#271December/January 1995-1996
Norway's Bama Trading and Dole Food form a joint venture to sell value-added fresh-cut fruit and vegetables.
#272February 1996
Dole Fresh Fruit Europe launches its own 5-A-Day campaign in Germany.
#273March 1996
An increase in global demand for labels, attributed to US supermarkets' requirement for individual fruit identification, encourages Sinclair International to expand its manufacturing capacity. Elsewhere, Fyffes acquires 50 per cent of Milan-based Peviani.
#274April 1996
Southampton becomes the UK's biggest fruit port, thanks to imports of tomatoes from the Canaries and bananas from the Windward Islands.
#275May 1996
French group Prince de Bretagne launches a redesigned product logo to emphasise its products' freshness.
#276June 1996
France introduces Raffarin Law restricting new supermarket openings to under 300m2.
#277July 1996
Unacoa invests in a massive packing and distribution facility outside Ferrara.
#278August 1996
The New Zealand Kiwifruit Marketing Board registers a new brand name, Zespri, to differentiate its products.
#279September 1996
In the UK, Safeway becomes the first retailer to sell own-brand bananas.
#280October 1996
Dutch auction VTN launches a new marketing identity, The Greenery International.
#281November 1996
The UK's largest produce wholesaler, Francis Nicholls Group, establishes a new £200m company called Redbridge Holdings.
#282December/January 1996-1997
Chile expects blueberry exports to exceed 1m cartons for first time.
#283February 1997
Israel plans full-scale deregulation of exports, including the privatisation of Agrexco.
#284March 1997
Dole pulls the plug on Dominican Republic pineapples and moves its production to Costa Rica.
#285April 1997
Anecoop says it wants member cooperatives to commit at least half of their volumes to the the company within the next few years.
#286May 1997
A number of Europe's leading supermarket chains have started selling fair trade bananas sourced by the Max Havelaar Foundation.
#287June 1997
Eurofruit reports on the arrival of the first Zespri-branded New Zealand kiwifruit in Europe.
#288July 1997
Importers hail the EC's decision to remove import licences for apples, pears and clementines.
#289August 1997
Eurofruit speaks to Dominique Thevenon of French company Star Fruit about the creation of apple club Pink Lady Europe.
#290September 1997
South African fruit exporters look ahead to deregulation.
#291October 1997
Four Dutch produce auctions combine their marketing through a single company called Fruit Masters Holland.
#292November 1997
Dole makes a significant move in France with the acquisition of eight ripening rooms belonging to Compagnie Fruitière.
#293December/January 1997-1998
Harvesting of apples in South Africa is due to get underway in mid-January, the earliest start for many years.
#294February 1998
Zespri reports strong results for its inaugural European campaign, with NZ kiwifruit sales in Germany over 10m trays for the first time.
#295March 1998
Protected geographical status is granted by the EU to pears, peaches and nectarines grown in the Italian region of Emilia-Romagna.
#296April 1998
As the Southern Hemisphere apple season gets underway, importers report growing demand for bicoloured varieties.
#297May 1998
Belgian fruit and vegetable producers unite under the Flandria marketing label.
#298June 1998
Russia emerges as a significant trading outlet for Dutch fresh produce exporters.
#299July 1998
Israeli group Mehadrin prepares to export avocados for the first time.
#300 August 1998
Keelings has been appointed partnership supplier and consolidator to Tesco Ireland.