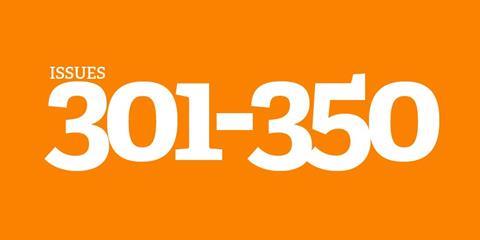 Eurofruit's 500th issue is due to be published at the start of November, a major milestone for a publication that has been reporting on news, trends and ideas in Europe's fresh produce business ever since the European Economic Community began to expand at the start of 1973.
We have selected one important story from each of our previous issues, giving you a snapshot of key developments in the European fruit and vegetable market during the course of our 44-year history. Below, you can see what the key stories were in issues 301-350.
Timelines in this series:1-50,51-100,101-150,151-200,201-250,251-300,301-350,351-400,451-500.
To secure your copy of Eurofruit's 500th issue, please contactsubscriptions@fruitnet.com. Orview the entire magazine for free online here.
#301 September 1998
Del Monte will begin sourcing from a new subsidiary in South Africa following the purchase of Trifrutas Holdings.
#302October 1998
New Zealand kiwifruit marketer Zespri is running market trials in the UK for a new golden variety of kiwifruit.
#303November 1998
Fyffes subsidiary Lembcke has expanded its business in Denmark with the acquisition of Olesen Import.
#304December/January 1998-1999
A new generation of mini-barcodes for use on small individual items is set to revolutionise fresh produce identification in stores worldwide.
#305February 1999
Chile's fresh fruit industry revamps its image with a new logo, and harmonises quality standards as it prepares to target Europe.
#306March 1999
French prepared salad and vegetable producer Soléco unveils plans to build a factory in the UK, its first outside France.
#307April 1999
Agricomerz, the Polish subsidiary of Spanish cooperative Anecoop, begins trading in Poznan.
#308May 1999
The UK government begins a consultation to toughen up regulations on pesticide use in agriculture.
#309June 1999
US retail giant Wal-Mart takes over UK's Asda.
#310July 1999
UK retailer Sainsbury's launches a major revamp, including the use of a vibrant new orange colour for its logo and a new corporate statement, 'Making life taste better'.
#311August 1999
The New Zealand government agrees to a "re-regulation" of its kiwifruit industry, allowing growers to become shareholders of Zespri. Meanwhile, NZ topfruit growers receive shares in restructured entity Enza.
#312September 1999
Denmark's AP Møller confirms its subsidiary Maersk Line is to buy the international shipping business of Sea Land Service for US$800m, doubling capacity on routes to and from the US.
#313October 1999
French retailers Carrefour and Promodes agree on a €45bn merger to create world's second-largest retailer.
#314November/December 1999
Italian exporter Vog merges with ESO to create Europe's largest apple marketing organisation.
#315January 2000
China exports kiwifruit to Europe for the first time in its history.
#316February 2000
Eurofruit starts up North American imports magazine Americafruit.
#317March 2000
French salad cooperative Val Nantais is awarded Agri Confiance certification, guaranteeing 100 per cent traceability back to source.
#318April 2000
The WTO tells Ecuador it can to impose sanctions on the EU as a result of rulings against its banana import regime.
#319May 2000
Chile signs agreements to export table grapes, apples and kiwifruit to China.
#320June 2000
Zespri prepares for a pan-European launch of Zespri Gold.
#321July 2000
Germany launches the country's first generic campaign to boost fruit and veg consumption, dubbed '5-am-Tag – Obst and Gemüse'.
#322August 2000
A report from Forrester Research predicts that by 2005 over 6 per cent of all business-to-business trade in Europe will be through online exchanges.
#323September 2000
Europe's exotics sector continues to grow steadily as suppliers gear their operations to the demands of the supermarkets.
#324October 2000
The Great English Apple Campaign helps shoppers identify English apples using the Union Jack label.
#325November/December 2000
The EU sends 200 tonnes of produce to Israel duty free after much of the latter's supply is cut off due to fighting in Gaza and the West Bank.
#326January 2001
The World Apple and Pear Association is officially launched.
#327February 2001
South African producers question the wisdom of deregulating the country's deciduous and citrus industries, following a drop in export earnings.
#328March 2001
France tops the list of world apple exporters, sending almost 800,000 tonnes abroad in 2000.
#329April 2001
Spanish firm Unexport is to open six new subsidiaries in Germany, Poland, Hungary, the Czech Republic, the US and Canada over the next two years.
#330May 2001
The UK organics market grows by 50 per cent in two years to around £605m a year.
#331June 2001
Ecuador ends its banana dispute with the EU. A new deal sees country-by-country quotas eliminated and import volumes from Latin America increased by 100,000 tonnes.
#332July 2001
Several leading South African growers join forces to launch two new companies, Fruits Unlimited and Organics Unlimited.
#333August 2001
Israel's leading citrus exporters, Mehadrin and Tnuport, are to merge.
#334September 2001
Export association Coleacp is to implement the European Commission's Pesticides Initiative Programme (PIP) for the benefit of the ACP horticulture sector.
#335October 2001
South Africa's Capespan International and Ireland's Fyffes Multifresh combine UK produce businesses to create Capespan Ltd.
#336November/December 2001
Border closures in the Middle East following the 9/11 attacks in the US have led to a banana glut in Mediterranean.
#337January 2002
The 142 members of the WTO finally approve China and Taiwan's accession to the trading body, 15 years after their initial bids.
#338February 2002
The Greenery acquires the Minnaar Group as part of a strategy to bring member growers closer to its major food retail customers.
#339March 2002
40 per cent devaluation of the Argentine peso boosts the country's fresh produce exports, but growers see production costs rise.
#340April 2002
NZ apple deregulation kicks in, with a number of different brands arriving in Europe for the first time.
#341May 2002
The Greenery agrees the sale of Verdi to South African Fruit Exporters, while Citronas acquires Dutch topfruit marketer Kardol.
#342June 2002
Costa Rica's banana exports are expected to fall by as many as 7m boxes following torrential rain and flooding in the Limón area.
#343July 2002
Turkish exporter Alara Agri expects to ship around 2,500 tonnes of cherries to the UK this year, a 40 per cent increase.
#344August 2002
British high court judges rule that European regulations on the sale of fruit and vegetables, including prohibitions on 'bendy' produce, have no legal standing in the UK.
#345September 2002
The European Fresh Produce Association begins operating under its new name, Freshfel Europe.
#346October 2002
Pakistan's fruit exports have soared by 300 per cent in the previous two years as a result of an aggressive marketing strategy pursued by the Export Promotion Bureau.
#347November/December 2002
A group of 16 Italian companies come together to form Mediterranean Fruit Company (MFC), an association dedicated to bringing Italian produce to a wider international market.
#348January 2003
Still part of International Green Week, Fruit Logistica attracts 855 exhibitors from 43 countries. By 2004 it would become a stand-alone event.
#349February 2003
The world's first Fairtrade pineapples go on sale in UK, supplied by Asoproagroín for the Coop.
#350March 2003
Zimbabwean exporter Interfresh joins forces with resettled farmers to form a new US$500m citrus company, Citrifresh Export.