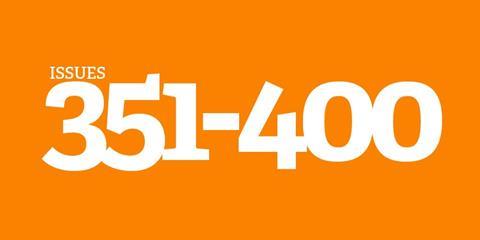 Eurofruit's 500th issue is due to be published at the start of November, a major milestone for a publication that has been reporting on news, trends and ideas in Europe's fresh produce business ever since the European Economic Community began to expand at the start of 1973.
We have selected one important story from each of our previous issues, giving you a snapshot of key developments in the European fruit and vegetable market during the course of our 44-year history. Below, you can see what the key stories were in issues 351-400.
Timelines in this series:1-50,51-100,101-150,151-200,201-250,251-300,301-350,351-400,451-500.
To secure your copy of Eurofruit's 500th issue, please contactsubscriptions@fruitnet.com. Orview the entire magazine for free online here.
#351April 2003
Italy's Apofruit and Generalfruit announce plans to merge within 12 months due to rising costs.
#352May 2003
Chiquita completes acquisition of German distributor Atlanta.
#353June 2003
Dole makes first move into fresh-cut fruit market with US launch of refrigerated, pre-cut line of mixed fruit, including mango, papaya, pineapple, melon and watermelon.
#354July 2003
The Chilean Fresh Fruit Association buys the rights to a number of citrus varieties managed by the Citrus Marketing Board of Israel.
#355August 2003
US breeder Sun World appoints licensed marketers in South Africa, Chile and Australia to distribute and promote its proprietary grape varieties.
#356September 2003
Fruitmasters buys Citronas to form the Netherlands' largest fruit firm.
#357October 2003
FRESH, a new annual conference and networking event organised by Eurofruit and Freshfel Europe, takes place in Paris.
#358November/December 2003
Bonduelle snaps up Vita, Germany's biggest bagged salad supplier, making it Europe's leading packaged salad company.
#359January 2004
Del Monte boosts its presence in eastern Europe with the acquisition of Polish fruit and vegetable distributor Expans.
#360February 2004
The first stand-alone Fruit Logistica exhibition takes place in Berlin.
#361March 2004
Zespri announces plans to sell more Gold kiwifruit in Europe, sourcing from new growing areas to the north of Lisbon, Portugal.
#362April 2004
Medway Ports signs a deal with Chiquita to build a new ripening facility at the UK port of Sheerness.
#363May 2004
Ten new countries join the EU: Czech Republic, Cyprus, Estonia, Hungary, Latvia, Lithuania, Malta, Poland, Slovakia and Slovenia.
#364June 2004
Consumer spending on ethically produced food in the UK has risen 75 per cent in three years to £1.75bn.
#365July 2004
Berry breeder Redeva announces plans to supply UK strawberries all year round.
#366August 2004
Russia's JFC plans to invest US$100m in new Ecuadorean banana operations over the next five years.
#367September 2004
Del Monte announces its intention to open new facilities in Russia, Hungary, Czech Republic, Scandinavia and UAE.
#368October 2004
Prince de Bretagne plans to ship a record 72,000 tonnes of tomatoes, making it one of Europe's top tomato distributors.
#369November/December 2004
Argentina's leading citrus exporter, San Miguel, celebrates its 50th anniversary.
#370January 2005
The EU adopts a new banana import system, with Most Favoured Nations subject to a €176 per tonne levy and ACP suppliers granted a duty-free annual quota of 775,000 tonnes.
#371February 2005
Belgium's Univeg acquires leading Dutch fresh produce group Bakker Barendrecht.
#372March 2005
The EU and Israel agree to identify whether produce is cultivated in Israel or in the Occupied Territories.
#373April 2005
Seabrex Rotterdam and Kloosterboer Vlissingen combine forces to create FresGo, specialised in fruit and vegetable logistics.
#374May 2005
Freshfel Europe calls on policymakers to harmonise food safety and quality rules across the EU, including MRLs.
#375June 2005
Chile's David Del Curto enters into partnership with investment group Moneda Asset, aiming to double its export volumes within seven years.
#376July 2005
Allegations of price-fixing hit the banana industry following raids on multinationals by EU antitrust investigators.
#377August 2005
The EU postpones plans to harmonise minimum apple sizing and maturity with global standards, much to the delight of the EU apple trade.
#378September 2005
The WTO rejects the EU's banana tariff proposal of €230 per tonne.
#379October 2005
Chiquita becomes the first fresh produce company to use the Rainforest Allance seal on products in Europe.
#380November/December 2005
The Chilean Avocado Association launches its first Hass promotion campaign in UK.
#381January 2006
Kloosterboer sells Antwerp Fruit Terminal to Sea-Invest - just weeks after purchasing it from Hesse-Noord Natie.
#382February 2006
Cabinet Levesque's Fabrice Levesque tellsEUROFRUITthat Russian consumer purchasing power is on the up, with demand for high-quality goods rising.
#383March 2006
Rijk Zwaan's Salanova lettuce wins the inaugural Fruit Logistica Innovation Award.
#384April 2006
After a 25-year absence, bananas return to the Port of Rotterdam on Seatrade's Seaban service from Costa Rica.
#385May 2006
As Fyffes forms a joint venture with India's Suri Fruit, the first Capespan-branded Indian grapes are sent to Europe.
#386June 2006
Mexico's Grupo San Carlos ships the country's first bananas and MD2 pineapples to Europe.
#387July 2006
South Africa's table grape industry announces plan to consolidate all industry activities under grower-exporter partnership SATI.
#388August 2006
Brazil's papaya shortage reaches a ten-year low following heavy rains and high temperatures.
#389September 2006
Renzo Piraccini of Apofruit says the 2006 World Cup, combined with fine weather, has boosted Italian stonefruit sales in key export markets.
#390October 2006
In Italy, GF Group founder Rafaello Orsero passes away. Elsewhere, Chile reveals record fruit exports for 2005/06.
#391November/December 2006
Freshfel's Consumption Monitor reveals a slight fall in gross per-capita produce consumption across the EU.
#392January 2007
UK retailer Sainsbury's announces it will convert its entire banana range to Fairtrade.
#393February 2007
Following its demerger from Fyffes, Irish group Total Produce ties up a €23m deal for Redbridge Holding in the UK.
#394March 2007
Fruit Logistica announces the launch of fresh convenience show FreshConex for 2008.
#395April 2007
WWF France claims buying Spanish strawberries could "damage the local environment" in Andalucia.
#396May 2007
Academics from across Europe use the EGEA Conference to call for action to be taken to fight obesity "epidemic".
#397June 2007
The ECPA slams EU pesticide proposals as anti-competitive, as Greenpeace hints at further fresh produce anti-pesticide campaigns.
#398July 2007
David DeLorenzo takes over as Dole president and chief executive.
#399August 2007
Syngenta acquires Israeli vegetable breeder Zeraim Gedera.
#400 September 2007
The first Asia Fruit Logistica takes place in Bangkok, Thailand.