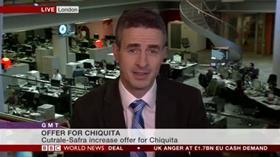 Ahead of a meeting of Chiquita shareholders to vote on a possible merger with Fyffes, Eurofruit managing director Chris White(starts 04:34) and editorMike Knowlesboth appeared on the BBC's World Business Report programmeto discuss the potential for the deal to be scuppered by Brazilian consortium Cutrale-Safra's rival bid.
Following the announcement that the shareholders had rejected the ChiquitaFyffes deal, Knowles spoke to the BBC World Service about the decision's implications.
Then, once Chiquita had accepted Cutrale-Safra's US$1.3bn takeover offer, White returned to New Broadcasting House to give his take on the potential impact such an acquisition could have on the fresh produce trade.