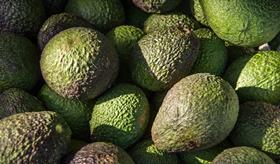 Spain is likely to face rising competition from other European avocado suppliers in the coming years amid signs that several countries are looking to emulate the success of their Mediterranean neighbour.
Speaking to Spanish newspaper El Confidencial, Xavier Equihua, CEO of the World Avocado Organization, said that pilot programmes to grow the green fruit in Portugal, Italy and Greece could, if successful, lead to rise in volumes which could drive an increase in consumption among European consumers.
More than 650,000 tonnes of avocados were sold in Europe last year, with Spain, South Africa, Peru, Kenya and Morocco among the leading suppliers.
Equihua pointed out that Spain ranked 11th in terms of avocado consumption in Europe, with people eating just 1.19kg a year. He said marketing efforts to promote consumption should focus on encouraging its use "beyond salads" as well as its inclusion on restaurant menus.
Norway has the highest per-capita consumption in Europe at 2.44kg, followed by Denmark (2.31kg), Sweden (2.09kg), the Netherlands (2.02kg) and France 1.86kg).
With water restrictions limiting new plantings in the region surrounding Málaga and Granada –the hub of the Spanish industry –Spanish companies are turning to new production areas such as Valencia and Cádiz.
One of Spain's biggest avocado producers, Trops, has already turned to Portugal to supplement its volume in the coming years. The company is building a new packhouse in the Algarve which will serve as the company's centre of operations in Portugal. The country is believed to have around 1,000ha of avocado production, much of it within the Algarve.
"The new facility will enable us to provide local growers with the same level of service as we do to our growers in Málaga and Granada," Trops CEO told Fruitnet in a recent interview.
Once it is fully operational, Trops hopes the facility will pack up to 90 per cent of the area's production.
Elsewhere, Greek avocado production is climbing year on year. Papastamatakis a citrus producer based on the island of Crete, decided to invest in its own avocado programme ten years ago and its volumes are growing by 3,000 tonnes a year.
The southern Italian regions of Calabria, Basilicata and Sicily are also believed to be ideal for cultivating avocados.
In Antalya, Turkey, meanwhile, there are believed to be around 500ha of avocado production and this is growing rapidly.