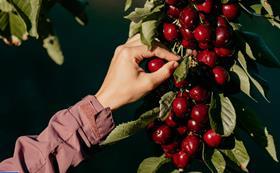 The European picota cherry harvest gets underway in mid-June, with growers in Spain's Jerte Valley looking forward to an 'abundant harvest' following this year's annual cherry blossom in April.
The Jerte Valley is located 200km west of Madrid, in Northern Extremadura, where over 1m cherry trees are grown on the slopes of the mountain.
The farmers who grow the exclusive European variety follow rigorous quality control procedures that grant the Picota its DO (Denomination of Origin) status.
"This year we have experienced a cold winter - the low temperatures make the trees more resilient, and so in the spring they are now primed to bear good quality fruit,' said Miguel ángel Durán, export manager at Agrupación De Cooperativas Valle del Jerte.
'The spring has been very favourable with mild temperatures, which has helped the bees to play their part, and the pollination process has been excellent,' he continued. 'Thanks to all these climatic conditions, we are expecting a very good European Picota cherry campaign, both in terms of volumes and quality."
Picota volumes destined for the UK this season are expected to be higher than last year.
"We hope to hit 5m kg, which will mean selling 25 per cent more cherries than in 2020,' Durán confirmed. 'UK consumers want to see more picota cherries on the shelves this year because the supermarkets position them as the ideal natural snack during the summer."
Total estimated Picota volumes for 2021 are 21m kilos, of which 50 per cent-60 per cent will be exported worldwide, and the rest sold in the domestic market.
Agrupación is this year taking advantage of a new promotional venture with Chafea, which will give it the opportunity to get the cherries to more consumers.
"With the support from Chafea, the focus of the campaign will now be on the quality and traceability of European products such as picota cherries,' said Durán. 'The main objective of this year's campaign is to raise awareness of the traditional, healthy, and sustainable harvesting methods that the European Valle del Jerte uses, so that UK shoppers are aware of the unique characteristics and benefits of picotas."
UK supermarkets are already looking ahead to resolve any potential setbacks posed by Brexit to guarantee the picota supply.
"Because of this, we have decided to assign a large part of this year's crop to the UK market,' Durán added. 'While it is true that the logistical challenge will be greater this year, we will be able to work around it without any problems to provide the picotas and cherries when the time arrives."