WAPA president Dominik Wozniak admits lack of workers from Ukraine and increase in costs have hampered campaign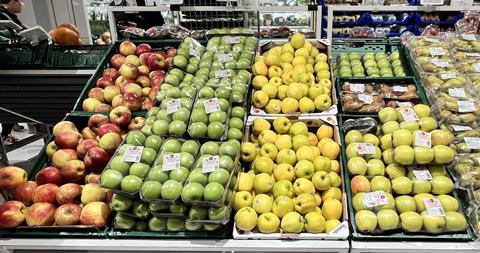 This year's commercial campaign for European apples is one of the toughest in recent memory, according to one of the category's leading suppliers.
Speaking at last week's Interpoma trade fair in Bolzano, Italy, World Apple and Pear Association (WAPA) president Dominik Wozniak said the situation for growers and exporters in his home country of Poland had been extremely challenging.
"The difficulties that producers have had to face in recent months are similar to the problems that have affected other European countries, such as rising logistical, energy and fertiliser costs," he commented.
"The Polish production figures are very positive, but this year will be remembered by the producers as one of the most difficult in recent years."
Although Polish apple growers did manage to avoid hail damage this time around, a severe lack of workers at the start of the season in September meant that not all of their fruit could be harvested.
"Many of the seasonal workers in Poland are in fact Ukrainians who, due to the war, could not participate in the harvest," explained Wozniak, who is also vice-president of Polish cooperative Rajpol. "In addition to this difficulty, many growers chose to deliver the apples directly for processing in exchange for low prices, rather than having to bear the costs of storing them in [coldstorage] for the next few months".
The European Union's total harvest for 2022/23 is estimated at 12.2m tonnes, according to WAPA. Poland will produce the most, with a crop of 4.75m tonnes that is larger than last season's, followed by Italy and France with 2.05m tonnes and 1.39m tonnes respectively.
In Italy, a shift in production volumes across different regions has left the overall size of its crop relatively stable, according to Alessandro Dalpiaz of industry body Assomela.
"While the quantities in South Tyrol and Trentino have decreased compared with previous years, Veneto and Piedmont have compensated with a slight increase, even though a large part of their supply is destined directly for processing," he said.
"Since mid-September, part of the harvest has been able to benefit from the good season and express the best quality of the fruit, in colour and taste."
Pierre Venteau, director of France's Association National Pommes Poires, confirmed that unusually hot weather in the summer had led to a revised crop estimate.
"At the beginning of July, expectations for the harvest were very high, significant growth in terms of production was expected," he noted.
"Instead, due to the heatwave, there was a drastic drop, which forced us to revise our forecasts. However, the quality of the fruit remained good, with a very good sugar level for many varieties."