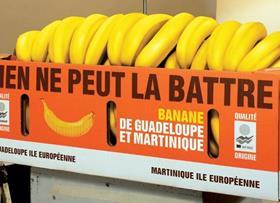 European banana producers have expressed concern over the 'imminent' signing of a revamped banana tariff deal between the European Union and Latin American banana-exporting nations.
The European Banana Producers' Association (APEB) said in a statement that any agreement made outside of the World Trade Organisation's framework would be 'the worst solution' for European and for African-Caribbean-Pacific (ACP) producers.

A major concern was the lack of initiative in place to analyse the negative effect of tariff cuts on European producers, the group added, with the APEB expressing 'surprise and profound concern' at the actions of their respective member states (France, Portugal and Spain) and the European Commission.

'In the frame of the bilateral negotiations with the NPF (Latin American) countries the Commission's offer goes far beyond the concessions already given in the Geneva agreement,' the group said. 'Besides the tariff cut proposed for the first six-year period (€114 per tonne), the European Commission is offering some additional cuts from the seventh year at a level of €95 per tonne.'

APEB said that the European Union's priority should be to protect its banana producers from these lower tariffs, which it said could lead to a drop-off in production.

The tariff, which exempts ACP bananas, currently stands at €176 per tonne – something which has led to a long-running battle between Latin American producers and the EU, with the former claiming that the tariffs hand an unfair competitive advantage to ACP nations.

Latin American countries have complained to the World Trade Organisation (WTO) over the tariffs on numerous occasions, with the EU losing the case each time.