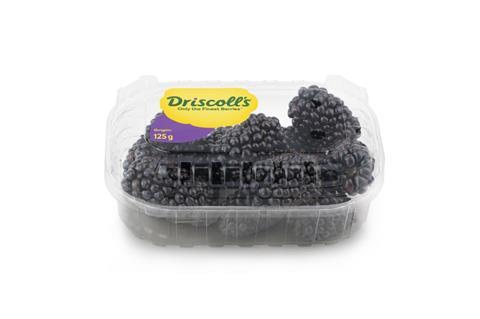 Western Europe might be buried under a blanket of snow, but the blackberry market is heating up.
That's according to leading berry marketer Driscoll's, which says it wants to "seduce" consumers with a new variety grown in Morocco, Portugal and Spain that could help boost sales of the fruit in Europe during the winter months, bringing fresh impetus to another part of the berry market.
Its trademarked variety Victoria is apparently on course to repeat the recent success of another Driscoll's invention, the Maravilla raspberry variety, by offering consistently good-looking, good-tasting, sweet and juicy fruit without the kind of tart flavour usually associated with fresh blackberries.
The company has been developing production of Victoria around the Mediterranean as demand for better blackberries increases in its European markets.
"To ensure consistent berry quality while all of Western Europe is still chilly in coats and scarves, Driscoll's head to Agadir to grow a variety of blackberry that is really making people sit up and take notice," the company comments.
"While many retailers have already heard of the very successful Driscoll's Maravilla rasberry, the Driscoll's Victoria blackberry variety is hot on its heels. Beautiful, big and shiny, always sweet, and never too tart – the time has come for these perfectly sweet and juicy blackberries to conquer European hearts too."
So what makes the Victoria so different? Jesus Villar, one of the company's Moroccan growers, believes it's largely to do with how they taste.
"The taste profile of blackberries is traditionally very acidic, but this unique variety is tasty and extremely sweet," he explains. "The fruit quality is just so good, and we're just at the beginning of its production potential. It all looks very promising."