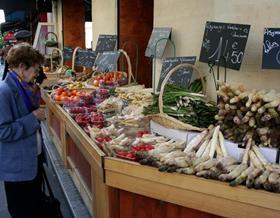 The lockdown imposed across France to counter the Covid-19 crisis has had a major impact on consumption, while worker shortages continue to cause anxiety for producers.
According to French interprofessional organisation Interfel, the country's wholesale markets recorded a fall in sales of 40 per cent at the start of this week, while demand for Drive and e-commerce services continue to soar, as consumers seek to avoid human contact.
The organisation also revealed that the start of the strawberry and asparagus seasons had been especially hard hit by the crisis, with demand dropping for such seasonal products.
As the strawberry season enters its peak in the coming weeks, Xavier Mas, president of the French strawberry association of producer organisations, warned of potential disaster.
"This situation could turn into a catastrophe," he said. "Delivery issues and tumbling prices are making French producers fear the worst in terms of the survival of their farms and the 4,000 direct and indirect jobs linked to the business."
Interfel stated that the flow of supplies could be improved with better access to protective equipment including masks and hand sanitiser.
With thousands of seasonal workers from eastern and southern Europe unable or unwilling to travel to France, the sector is calling on the state to introduce simplified procedures for employment, as well as financial support to attract workers to the sector, such as through the so-called "Macron" bonus.
In addition, Interfel is demanding that measures to remove the ceiling for overtime work, which currently applies to public health workers, also apply to the produce sector.
Worker shortages are only set to grow in the coming weeks, as other vegetables come into production and maintenance is required in the country's orchards.
The platform "Des bras pour ton assiette" (which translates as "Lending a hand for your plate") aims to connect farmers with available manual workers. Around 40,000 have so far put themselves forward, but far higher numbers are needed heading into April and May.