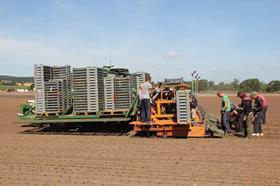 New analysis reveals a massive reduction in Google searches for agricultural sector jobs in the UK by European workers.
PR firm GK Strategy and analysts onefourzero published a report that shows Google searches by Romanian, Bulgarian and Polish citizens for agricultural jobs in the UK have fallen by 34% in the past year.
As people increasingly research potential employers online, Google search data is a sound early indicator of changing behaviour and provides insight into the shifting patterns of EU nationals searching for work in the UK.
The decline in interest, following the UK's decision to leave the EU, could lead to a potentially serious recruitment crisis for the UK's agricultural sector, which already has a 29% shortfall in seasonal workers, according to GK Strategy.
Interest in agricultural jobs is heavily influenced by season, with peaks between December and April, although the window of interest has shortened and become more pronounced in 2017, compared to 2016.
Robin Grainger, Group CEO at GK Strategy, said: "Declining online interest indicates an emerging workforce crisis for Britain's agricultural industry. In the short term producers and representative bodies should work with Government to protect that vital pipeline of workers from abroad.
"In the longer term they should push for the implementation of a new migration system which recognises the reliance of our agricultural production on talented overseas staff.
Fleur Hicks, Chief Executive at ounefourzero, added: "We live in a digital age and online searches are a good early indicator of where people are looking to work. The bad news is that it is not clear if UK workers will step in to fill the vacancies as EU workers lose interest in coming to our shores.
"The data paints a clear picture of how Brexit continues to affect the desirability of the UK as a destination for work."