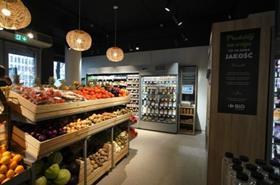 Following the opening of Carrefour Bio stores in France, Spain and Belgium, the French supermarket giant has unveiled its first exclusively organic store in Poland, in the country's capital, Warsaw.
The 153m2 retail space will stock a wide range of products, approximately 2,500 in total, seeking to meet the expectations of consumers wishing to do a full, healthy grocery shop close to home.
The group highlighted research showing that the main barriers to ecological shopping in Poland were the price of organic products and a lack of confidence in quality.
According to Carrefour, its aim is to "democratise" the organic sector, ensuring universal access to organic products for consumers at lower prices, and strengthening the offer of high-quality food by supporting the development of organic farming in Poland.
The store's assortment will include 250 types of fresh products, including fruit and vegetables. As many as 250 Carrefour Bio own-brand products, well regarded for their low price and high quality, will be available.
The store will also offer 50 loose products by weight, including legumes, coffee and a wide selection of dried fruit and nuts.
The store equally boasts a 'Food to Go' section where consumers can find healthy organic snacks, soups, fresh juices and sandwiches prepared on site. In an effort to tackle food waste and reduce plastic use, Carrefour's Bio stores allow consumers to use their own packaging where possible.
Consumers looking for products directly from farmers can additionally use the store to collect their orders processed via the LokalnyRolnik.pl platform.