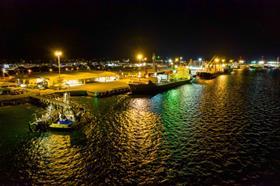 Zespri has announced that the first consignments of this season's Zespri SunGold kiwifruit have left Port of Tauranga, bound for the Port of Zeebrugge where they will arrive at the end of April. The first shipment of Zespri Green Kiwifruit is expected to arrive in Europe in May.
The marketer said it expects to undertake four charter sailings to North Europe this season. Zespri's executive officer Europe and North America, Giorgio Comino, said European customers and consumers are eagerly awaiting this season's fresh, Vitamin C-rich Zespri Kiwifruit.
"We witness sustained demand for Zespri Kiwifruit across our European markets and we are pleased to have this season's fruit arriving soon," he commented.
"Our latest estimates show a supply of more than 63m trays of Zespri Kiwifruit (SunGold and Green) in 2022 across our European markets."
With the new season approaching, Comino said the company is looking forward to again working with its long-term suppliers and partners.
"Our industry remains committed to delivering our consumers another great-tasting crop of fresh and Vitamin C-rich Zespri kiwifruit," he said.
Comino also confirmed that this season's marketing campaigns will again feature the Kiwi Brothers in the six core European markets after last year's success.
"This year, we are taking our 'Chase the irresistible taste' campaign to the next level with the overall goal of building the importance of the delicious flavour behind the connection of our kiwi brothers with humans.
"Developed in collaboration with VMLY&R and Mindshare in London, the campaign will be launched at the start of the season.
"Thanks to an ambitious media plan and an always-on regional strategy, our consumers will be able to see the 'Kiwi Brothers' on the television, in print media, on OOH advertising, in digital media and at the point of sale."