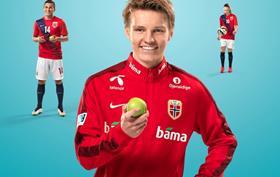 A new campaign to boost fresh produce consumption by inspiring healthier living and more sustainable sourcing is apparently helping to sustain a dramatic increase in fruit and vegetable intake over the past decade in Norway.
Launched by Bama, the country's leading fresh produce importer, in partnership with the Norwegian Football Association and the Eat organisation in Sweden, Eat Move Sleep reinterprets the notion of five-a-day to present a concept that consumers will in theory find more engaging.
As Bama's trading director øyvind Briså explains, a fundamental ingredient in the scheme's success so far is the fact that it offers products that are more in tune with what Norwegian consumers want.
As such, he suggests, it may provide useful lessons for marketers in other parts of the world.
According to figures from the Norwegian Directorate of Health, average daily per-capita consumption of fruit and vegetables in the country has risen from around 356g ten years ago to more than 410g, in stark contrast to an overall downward trend in the EU.
"If you take a look at Norway versus the EU, you see the trend that is in the EU when it comes to grams per capita and then you can take a look at the trend in Norway, which is going slightly the other way," Briså observes.
Rising stars in produce
Three years ago, tomatoes were Bama's biggest product category by volume sold, but today they have been overtaken by berries, per-capita annual consumption of which is now 4.2kg.
Within that figure, Briså notes that "blueberries account for 807g, which is a pretty good achievement in just a few years".
Elsewhere, avocado sales have also been "fantastic" of late, he says, thanks mainly to Bama's decision to begin sourcing ready-to-eat product in 2007.
The addition of juice and smoothies, which the group deliberately merchandises in the fruit and vegetable department, has apparently been a success too.
"These are just a few examples of the way we are working," Briså comments. "It's the long-term thinking from the owners and the working processes of an integrated value chain that have given us these possibilities."