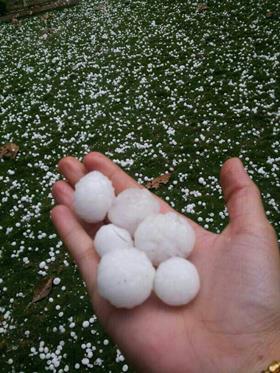 Freak hailstorms, the likes of which have not been seen for the past 20 years, hit 1,500ha of grape production in India's Sangli region yesterday (6 March), causing significant damage to crops.
Another major grape-growing region, Nashik, has also been affected by unseasonable rain and hail in recent days, with further rainstorms forecast, growers report.
The adverse weather, which saw hailstones the size of golf balls fall from the skies, is expected to cut export volumes and curtail the export season.
"Sangli had rain with hail and two major areas were all white, with the ground covered with hail," reports Azhar Tambuwala of Indian grape grower-shipper Seasonz.
"All fruit in this area is damaged and an estimated 150-200 containers will be lost. The crop harvest ideally would have finished in this region by 20 March, but now it will be earlier."
March weather in Sangli and Nashik is normally hot and dry, with temperatures around 30-35 degrees. This year, though, it has so far been windy and cold, Tambuwala adds.
"I've never seen this in the last 20 years," he says.

India's meteorology department told the Times of India that the rain and hailstorm were caused by a confluence of dry and cold winds from the north with the hot moisture-carrying winds from the Bay of Bengal over south India.
Sangli district collector Deependrasinh Kushwah said officials were today busy assessing the damage to grape production in the region.
Up to now, India's grape season had been shaping up well, with some key grape producers expecting to double the volumes produced last year.
Exporters were also experiencing strong demand from Europe, where Southern Hemisphere grapes are in short supply.
Prior to the hailstorms, Indian export association Apeda had estimated a 40 per cent rise in grape export volumes to Europe this year compared to last.