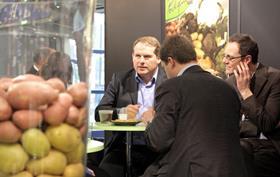 French exports showed an increase of 1 per cent during the month of December, compared with 2018, driven in particular by increased sendings to eastern Europe and, to a lesser degree, Italy, according to the CNIPT, France's national potato committee.
Exports reached 201,239 tonnes in December 2019, sending the overall total to more than 693,000 tonnes (a yearly rise of 2 per cent) since the start of the 2019/20 season beginning in August.
Exports to Italy recorded an increase of 8 per cent for the month of December, compared with 2018, and Italian imports are expected to accelerate between February and April, the traditional peak for purchases from local importers.
French potatoes performed exceptionally strongly in eastern Europe, notably in Romania, Hungary, Czech Republic and Slovakia, with export volumes growing by 87 per cent.
In Poland, however, sales remain moderate due to strong competition from Germany, while exports are down to Spain, Portugal and Greece.
"In Spain, substantial stocks from the large 2019 local harvest have put Spanish operators in a strong position," the CNIPT stated. "The price-quality ratio is also an influencing factor on some French supplies to Spain."
According to the CNIPT, the quality-price positioning of French supplies will be a big challenge going forward, given the "calmness" of the market and the heightened competition that comes with the arrival of off-season, newly harvested potatoes from the Mediterranean, combined with the continued presence of Egyptian supplies on certain export markets.
At its general assembly last month, the CNIPT elected its new board of directors for the next three years. Luc Chatelain, potato producer and representative of the UNPT, will take over as president from Alain Marguin; Marc Morellato, representative of Fedepom, becomes vice-president; Luc Jeanneau, representative of Felcoop, was elected treasurer; and Antoine Peenaert, representative of UNPT, was named secretary.