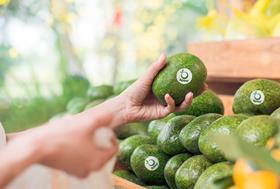 Leading marketer-distributer Del Monte Fresh Produce NA has announced a new partnership with Apeel to keep its avocados fresh for longer.
Fresh Del Monte's new and existing customers will now be able to partner with the brand on their Apeel application, adding to the infrastructure the company has already in place to help support growth in the category.
According to Apeel, its plant-based edible coating slows the rate of water loss and oxidationwhen applied to avocados, doubling the fruit's shelf-life.
Kirk Marquardt, Fresh Del Monte's vice president, avocado sales, said the technology would be a win for consumers and the environment.
"As one of the top three suppliers of avocados in the US, we are excited to offer our customers the option to work with Apeel," said Marquardt.
"At Fresh Del Monte, sustainability is a top priority and we know that Apeel's sustainable approach to reducing food waste will help to build a more resilient food system for the future. We are confident that our strong avocado programme will continue to grow from this exciting partnership."