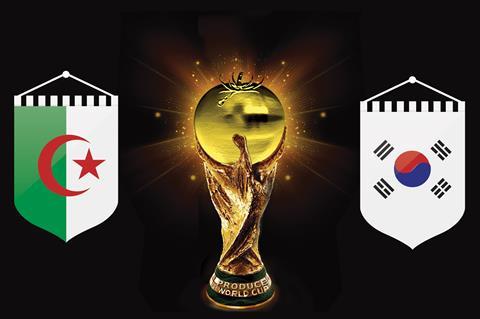 Fruitnet.com's partner publicationsFRESH PRODUCE JOURNAL, EUROFRUIT, ASIAFRUITandAMERICAFRUIThave teamed up to publish a series of special interviews to coincide with the FIFA World Cup, featuring a member of the fresh produce industry from each of the 32 nations involved in the tournament.
Today, it's Algerian Madjid Aïdh of Alterbioand , ahead of their national teams' Group H clash later on this evening (22 June):
What is your firm's world-beating service or product?
Madjid Aïdh:The Deglet Nour date, the wonder from the Sahara and the pride of Algeria. It is known as the Queen of all dates. The authentic Algerian Deglet Nour has a soft touch, a translucent light color and a soft honey-like taste, characteristics which distinguish it from other dates. Thanks to its high energy contribution and its high content in mineral salts, the Deglet Nour date has helped the caravanners during ages. Algerian football players will definetely rely on our dates during the World Cup!
Chang-Hwa Oh:Jinwon Trading has been a trusted fruit importer through various facilities between suppliers and customers since 1979. Jinwon is trying to supply high quality fruits and vegetables from overseas to domestic customers, catching up with their needs on food safety and quality. Jinwon has also created its own brand, Manna, to embrace domestic and imported fruits. Since 2012, Jinwon has supplied excellent quality fruits and derivative products, such as fresh cut fruits, juice and nuts, at relatively cheap prices, to consumers through its online shopping mall. The South Korean market has been opened up to various kinds of fruit and sourcing countries over recent years. Jinwon understands the South Korean market and is trying to introduce unique or better quality fruits to Korean market and customers as a market leader.
What does the World Cup mean to people in your country?
MA:Hope of glory and recognition to be a real football country. Algerian people are proud to have beaten the giant Germany for their first World Cup in history in 1982, but were then eliminated by a conspiracy between Germany and Austria
CHO:Football is one of the favourite sports for South Koreans. The passion for football itself and the World Cup was really high in 2002, when we hosted the event. Our cheering 'Red Devil' party is an example of this enthusiasm and they are known as our national team's 12th player. The majority of South Koreans are looking forward to watching the games in Brazil.
How do you think your national team will fare in Brazil?
MA:We are definitely not favourite in our group with Belgium, Russia and South Korea, and that is good! We like offensive and creative football and this generation is providing it. Our objective is to qualify to the second round and we believe we can do it.
CHO:We expect the South Korean players will do their best and showcase their excellent play. However, our 'oxygen tank' Park Ji-Sung announced his retirement recently. We might feel his absence as the key player and the captain. Having said that, we still have a lot of good players in South Korea and if these players can show persistent play and a strong and tight defence, we will probably make it to the top 16 and maybe revive our glory from 2002.