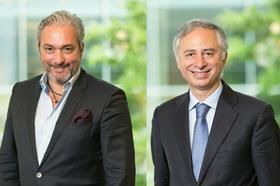 European fresh produce trade body Freshfel Europe re-elected Stephan Weist as its president and Salvo Laudani as vice-president for a second mandate of two years during its first-ever fully-digital annual general meeting (AGM) held today (29 September).
At the virtual meeting, which was rescheduled from its usual spring date, Freshfel Europe members also confirmed the reorganisation of its board to prioritise its sustainability and farm-to-fork policies, the group said in a press release.
The formal launch of a committee to coordinate the work of 'interbranch organisations at European level' was also confirmed at the onine event, it said.
Freshfel Europe's general delegate Philippe Binard, who chaired the AGM, welcomed the re-election of Weist and Laudani: 'I am confident they will continue to help direct the association's activities along with their fellow board and bureau members, especially in this unprecedented time for the fresh fruit and vegetable sector.'
Commenting on his re-election, Weist said: '2021 is the UN International Year of Fruit and Vegetables, and as market trends and trading conditions continue to rapidly evolve, new opportunities for our sector will arise to increase current consumptio levels. I am honoured to head Freshfel Europe for a second mandate in this challenging but exciting period.'