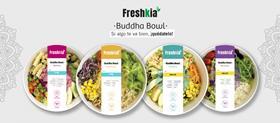 Freshkia, the healthy eating brand owned by Spanish food group Comfresh Iberian, has launched Buddha Bowl, a range of ready-to-eat fresh dishes suitable for vegans, vegetarians and flexitarians.
The dishes, based on vegetables, fruit, proteins, carbohydrates or legumes, are made with premium ingredients and are aimed at those who "choose to feel good inside and out".
"Through an innovative proposal both in terms of flavours and design, they offer a balanced combination of foods, capable of providing the body with the balance and nutrition it needs to feel good and achieve inner harmony," the company said.
The Buddha Bowls are inspired by a Buddhist tradition, according to which the monks go from door to door with an empty bowl, which the neighbours fill with what they have cooked that day - resulting in a varied and very colourful dish.
New trends and consumption models
"The new Buddha Bowls are born from the idea that food can change people's health and lives. Thus, Freshkia has transformed the traditional recipe for ready-to-eat salads with exotic flavours, adapted to new food models and to all types of consumers," the company explained.
The range has been developed in collaboration with two leading companies in the vegan sector: Heura, a 100 per cent vegetable meat brand, and Violife, a leading brand in Spain for a vegan alternative to cheese.
Buddha Bowl come in four recipes: Karma (comprising fresh vegetables, a vegan alternative to Violife cheese based on coconut oil and spirals of tri-colour pasta, apple and olives), Nirvana (fresh mixed vegetables with original Heura bites and accompanied by rice, edamame and mango), Namasté (freshly cut vegetables with white quinoa, vegan alternatives to Violife cheese, walnuts and corn) and Mantra (freshly cut vegetables mixed with Heura Mediterranean bites and garnished with apple and corn).
"Innovative and sustainable food has the power to change health, life and the environment. That is why the Buddha Bowls take care of the individual and society's health, responding to the needs of a consumer who is increasingly aware of the environment and responsible consumption that demands healthy and high-quality products," Freshkia said.
"The Buddha Bowls come in a 97 per cent-recyclable cardboard packaging, heat-sealable and with fully recyclable foil, and are 100 per cent eco-friendly – and all this while maintaining the maximum freshness and quality of the ingredients."