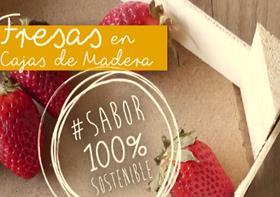 Huelvan berry association Freshuelva has teamed up with the Spanish Federation of Wooden Packaging and Components (Fedemco) in a new campaign to promote the sale of strawberries in wooden boxes.
The launch of the '100% Sustainable Flavour' campaign, which will run on social networks, is timed to coincide with the peak of the strawberry campaign.
Its aim is to encourage consumers to recycle the boxes in the yellow recycling containers found in streets and neighbourhoods throughout Spain.
Freshuelva and Fedemco said the initiative was their contribution to the conservation of the environment, sustainability, recycling and the circular economy.