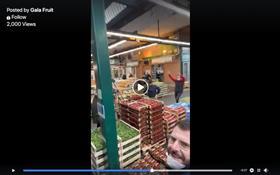 Fruit and veg does not stop!" Fresh produce wholesalers in Milan are in fine voice and continuing to work to ensure fresh produce reaches consumers, despite finding themselves at the epicentre of Italy's coronavirus outbreak.
Facing enormous challenges as they continue to supply the country, and indeed other parts of Europe, traders at the city's wholesale fruit and vegetable market Ortomercato organised an impromptu flashmob on Wednesday 18 March to boost morale and remind the public their food supply is in good hands.
The sing-song, part of which can be seen in the video below, served as a timely reminder that the market continues to operate – albeit under even more tightly controlled health and safety measures than before – and continues to act as a major conduit for fresh fruit and veg supply.
"Fruit and veg does not stop!" the traders shout. "We are here for you, we're struggling, but fruit and veg does not stop!"
In the clip below, Luigi Catalano of wholesaler Gala Fruit sings along to the words of Toto Cutugno's famous 1983 hit L'italiano. His intention, he explains, was to reassure customers and consumers.
"We're trying to convey that message in every way possible because I believe it's important people understand it," Catalano told Fruitnet. "The reason your fruit and vegetables are not running short is because people are working to supply it.
Catalano said he estimated that the wholesale trade was currently about 10-15 per cent down on usual sales. "The restaurants closed but the smaller independent stores and greengrocers are working well. People are also buying more in the supermarkets."
For those across the country struggling to keep going in the current adversity, Cutugno's lyrics are especially poignant.
"Good morning, Italy… with eyes full of melancholy. Good morning, God. You know that I am here too. Let me sing."
While many of Italy's local markets have been forced to close their doors during the current period of lockdown, Milan wholesale market and other major centres across the country are reportedly playing an essential role in helping to guarantee secure food supply during what, for most people in Europe, is the worst international pandemic in living memory.
Likewise, many of the country's smaller independent food stores continue to stay open, and depend on the wholesale markets network to maintain their supplies.
In another video posted on an Ortomercato community Facebook page, work can be seen continuing at the market.
'Everything will be fine!' the message below the video declared. 'We are not the international heroes of the health service, but our industry is also working around the clock.'
It continued: 'To get fruit and vegetables on our tables, we constantly need producers, transporters, general markets where all foodstuffs converge and the many retailers where you can find all the fresh fruit and vegetables you need every day.'