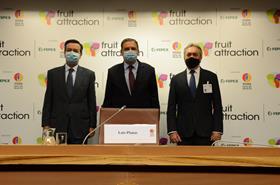 The 2020 edition of Fruit Attraction has opened its doors with a brand new, all-virtual format. The month-long event takes place on Fruit Attraction LIVEConnect platform, an online networking tool for the fresh produce industry where suppliers and buyers can connect and do business.
Around 500 companies from 24 countries are currently active on the platform, which will also feature numerous webinars and sessions throughout the month of October.
Speaking at the inaugural ceremony on Thursday, Spain's Minister of Agriculture, Fisheries and Food, Luis Planas, praised the "exemplary response of the fruit and vegetable exporting sector during the coronavirus lockdown in satisfying both internal and European demand".
Planas said the pandemic had raised the profile of the industry in the eyes of the public and offered an opportunity to move towards a more progressive and sustainable future.
However, the minister warned that Spain faces major challenges in the coming year, not least the possibility of the UK leaving the European Union without a trade deal, which would lead to the imposition of tariffs on a number of products and threaten the competitiveness of Spanish suppliers.
Planas also highlighted the need to ensure producers are paid prices reflecting the true cost of production, especially in light of the added costs the face for implementing Covid-19 security measures.
Jorge Brotons, president of Fepex, which co-organises the fair with Ifema, said Fruit Attraction has been instrumental in contributing to the expansion of the Spanish produce sector, which grew by 31 per cent in volume and 73 per cent in value between 2009 and 2019.
This message was reinforced by Ifema's director, Eduardo López, who noted that the pandemic had provided the event with an opportunity "to reinvent ourselves, develop new tools and business models, some of which are here to stay".
However, the organisers stressed that Fruit Attraction will return as a live event next year – albeit one retaining some of its digital aspects unveiled this year. The 2021 edition is scheduled to take place on 5-7 October.
López explained that the Fruit Attraction LIVEConnect platform will remain live for the whole of 2021, establishing "a professional community for buyers and suppliers and instrumental search tool for the industry".
Enjoyed this free article from Eurofruit Magazine and its team of editors? Don't miss out on even more in-depth analysis, plus all the latest news from the fresh produce business. Subscribe now toEurofruit Magazine.