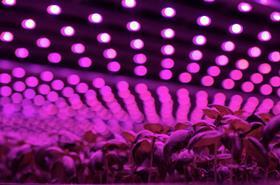 Israeli-Dutch AgriTech start-up Future Crops has announced that it is boosting output of a high-yielding basil variety it has successfully adapted for cultivation in the company's primarily solar powered 2,000m2 vertical farm.
According to Future Crops, the advanced, clean-farming technique for the aromatic basil variety will impart a long shelf-life and secure a steady supply of locally grown, pesticide-free herbs to the European market.
The proprietary seeds were developed at the Israeli Agricultural Research Organisation (ARO) by Nativ Dudai, PhD, professor and head of The Unit of Medicinal and Aromatic Plants.
Dudai is considered a prominent global figure in the mapping, breeding and development of basil varieties, and his research team was the first in the world to sequence the whole sweet basil genome.
Basil is one of the leading three herbs marketed in Europe, alongside mint and coriander.
Basil requires a minimum of five hours of sunshine daily, and thrives in warm, temperate subtropical climates. It is highly sensitive to cold, making northern Europe a less than ideal spot for growing basil.
Basil also carries a characteristically short shelf-life, as its tender leaves blacken and wilt easily.
The start-up has finalised negotiations with the ARO Institute to purchase exclusive licensing rights to these seeds for commercialisation worldwide.
Future Crops said that it had developed ideal climate conditions for its basil, allowing it to thrive year-round even during the cold Dutch winter.
'Equipped with precision agricultural technology, the signature basil crop is grown on a unique, nutrient-enriched soil-like substrate, with all cultivation parameters – including light, temperature, wind, and humidity, fully controlled,' the group said.