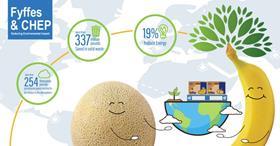 Fyffes has announced that it hit a major milestone last season, with 100 per cent of its melons being transported in repurposed and recycled wood pallets, seen as a 'significant contribution' towards a circular economy.
With the new 2019/20 melon season underway, Fyffes continues to use recyclable pallets in its melon operations while expanding its use across its other products.
Over the past decade Fyffes has looked to significantly reduce its carbon footprint through different initiatives that support the first pillar of Fyffes global Sustainability Strategy – Stewardship for the Planet.
One of these initiatives is the use of repurposed and recycled pallets to transport millions of boxes of Fyffes fruit worldwide, through a partnership with Chep. As a result of this ongoing partnership, all of Fyffes melons were transported in Chep pallets during the 2018/19 off-shore season, and their use in transporting bananas is increasing as well.
Fyffes said that studies had showed repurposed and recycled wood pallets had the lowest environmental impact compared with limited-use and plastic pallets.
In 2018 alone Fyffes saved 337m pounds (153m kg) of solid waste, reduced energy usage by 19 per cent, and avoided 254,406 pounds (115,397kg) of greenhouse gases being released into the atmosphere.
Erick Pinot, general manager in Central America for Chep, said: "We feel proud to partner with Fyffes and share our commitment to make the world a better place through the circular economy that these pallets offer. This provides the benefit of acquiring a sustainable product in a society that is engaged with the planet now more than ever."
Julie Cournoyer, Fyffes global director of sustainability, also commented on the strategic partnership with Chep: "At Fyffes we align our sustainability approach to the United Nations Sustainable Development Goals (SDGs). This partnership helps Fyffes improve on SDG 12 – 'Responsible Consumption and Production' as well as SDG 13 – 'Climate Action', two key sustainability goals for Fyffes.'