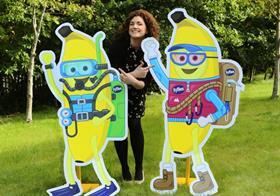 Banana importer Fyffes is inviting children and parents to 'Bring Freddy On An Adventure' in a new retailer-based consumer competition just launched.
Running in Dunnes Stores, SuperValu and other leading food outlets until December, the competition forms part of Fyffes recently-introduced 'Discover More' brand communications initiative.
Throughout the period, all ready-packed bags of Freddy Fyffes bananas will carry one of six Freddy Fyffes 'explorer' stickers, each one illustrated to show the playful character dressed to go exploring various pursuits from scuba diving to space travel.
Families are invited to show creativity by using the stickers to decorate their bananas before taking and submitting a photograph of their work. Entrants will have a chance to win weekly family adventure trips and an overall prize of a family holiday in Spain at the famed PortAventura resort.
Launched to promote what she calls "the natural qualities of fruit" and to educate young people about the growing and harvesting of bananas, the initiative is described by Fyffes marketing manager in Ireland, Emma Hunt-Duffy as "one of a number of elements introduced as part of Fyffes 'Discover More' programme".
Other elements are a new-look Freddy Fyffes mascot, modifications to the group's familiar blue, oval-shaped logo, and the unveiling of a redesigned website.
"Through these actions, we hope to develop more interest in Fyffes by encouraging consumers to become more curious and engaged with the brand," Hunt-Duffy added.