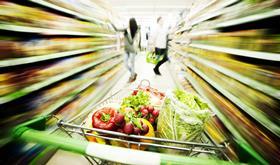 Shoppers that are digitally savvy, experimental and willing to spend more for quality are set to drive the international grocery sector up by an incremental $116 billion over the next couple of years, creating a $1.4 trillion opportunity by 2022.
That's according to a new analysis by grocery industry thinktank IGD, which suggests that this so-called 'Generation P', or Perennial Shoppers, will account for 30 per cent of all food and drink spend across three key markets - the UK, US and Singapore.
Comprising those aged 50-64, Generation P presents a key opportunity for international grocery retail as the group is set to grow in size and significance over the next two years, IGD explained. Across the three markets, IGD's research has identified opportunities for retailers and suppliers to engage with these shoppers.
Simon Wainwright, director of global insight at IGD, said: "This research shows how significant Perennials are to global grocery. They are an engaged group of shoppers who are accessible when approached in the right way. Competition is already fierce between retailers looking to find new ways to attract shoppers and Covid-19 has made it hard to chart the future. Having a clear focus on your shoppers and knowing how best to reach them will be crucial to success. That's why the time is right to focus on this often-overlooked group."
At an international level, Generation P are increasingly engaged online grocery shoppers. Over half (56 per cent) of Generation P shop online for food sometimes, with a third (33 per cent) predicting they will do more in the future.
They have an affinity with brands that they have grown up with, but also hold private-label products in the same high regard. While 67 per cent of these shoppers buy particular brands because they have grown up with them, the same number (68 per cent) indicate that they are also very satisfied with the quality of own-label products, with 58 per cent trusting them as much as brands.
The demographic values convenience and quality over price. A significant 75 per cent of 50-64-year-olds say they are sometimes tempted to spend more on better-quality products, and 56 per cent will sometimes spend more on products because they are easier to prepare and cook.
They would also like to select products with specific ethical or environmental credentials but tend to prioritise other factors in their purchasing decisions. Looking into the future, over half of Generation P (54 per cent) indicate that issues around the environment will take on greater importance for them, however 49 per cent admit they will always prioritise factors such as quality and price.
Though all united by the fact of being in the same age group and at a closely similar life stage, Perennials of the USA, the UK and Singapore still show some clear differences which may be expected to arise from the contrasting social, economic, cultural and even geographical conditions and characteristics found in each country, IGD pointed out.
"Perennials have embedded digital and online behaviours, which they will carry forward and continue to develop into later life,' Wainwright said. 'However, this is a generation that doesn't go digital purely for the sake of going digital – adoption of new technologies for them is driven by their proven practical benefits, and these have to outweigh those of established interactions and processes, such as traditional 'analogue' store-based shopping.
"Perennial shoppers show aspects of being habitual both in how they shop and in having an affinity for products that are familiar to them. In cases where they have grown up with products this affinity clearly can go back decades. However, it is clear that they also continue to evolve in terms of their tastes and choices, showing an ongoing willingness to trial new and different products as well as pragmatic considerations such as balancing quality with value for money."