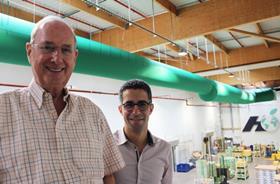 The past year has been an unusually action-packed one for importer Georges Helfer in France, despite its 50 years of experience in the fruit trade.
With volumes growing fast, the company expanded its warehouse on the south of France last September and relocated earlier this summer to a more modern warehouse in the heart of Paris's Rungis International Market that benefits from the latest refrigerators, numerous ripening plants and new packaging equipment.
"Thanks to our central location, every morning we can now supply wholesalers and our retail partners even faster,' said managing director Olivier Fakhri.
Now the company has announced a revamping of its visual identity, with the brand featuring a ring or crown of illustrated fruit above the words 'Le fruit de notre savoir-faire', which the company believes is a better reflection of its expertise and values.
"The new logo comes just as our company is consolidating the actions carried out over the past five years, which have resulted in a 30 per cent increase in our import volumes, sales and workforce,' said Fakhri.
He said that the company was in a new dynamic that demanded a new graphic identity and a new direction with regard to communications.
According to founder Georges Helfer, the company's new image recognises the close association between the fruit and the men and women working all over the world to produce the highest quality.
'We want to display beautiful products but also the hands marked by the work of the land,' he said. 'Fruits travel a very long journey, with many unexpected stages before they finally reach our plates.'
According to Helfer, business is currently going well, and he paid tribute to Fakhri's efforts as managing director in pushing the business forward.
'Having joined the company about ten years ago, Olivier has proven himself every day by climbing each step of the ladder one by one,' he said. 'Thanks to the quality of his work, he is well respected by all our staff. It was only natural that he became a shareholder. Today, as managing director, he has earned all the legitimacy to shape a brilliant future for himself. He has my full support and the trust of our suppliers.'