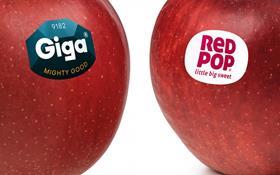 Yesterday was a red-letter day for Italy's apple industry, with the news that three new and highly promising varieties are now being grown in the South Tyrol region.
Of the three, Cosmic Crisp is currently the most widely known trademark in the apple business. Introduced in the US market in late 2019, its role as the great future hope among Washington State growers has already been widely reported.
The two other varieties, however, are less well known. All three will be available in the European market for the first time next season.
For Italy's largest apple exporter Vog, whose grower members are the first in the world to produce them, it's a golden opportunity to offer buyers some notably different products.
So what do Ipador and CIVM49, marketed respectively as Giga and RedPop, bring to the market?
Giga, is a round, deep red and yellow fruit bred in Belgium by Better3fruit. Its taste is described as 'full-bodied with flavour notes ranging from banana to honey to cinnamon and dried fruits'.
It's a cross between two existing varieties: GoldRush, a scab-resistant apple similar to Golden Delicious, but with a slightly more acidic taste; and Nicoter, which is marketed under the Kanzi brand.
Giga will be harvested in early October and sold from January to August. According to the International Pome Fruit Alliance, which owns the global master licence, the variety is juicy, crunchy, and very firm, with extremely long storage potential and 'remarkable' shelf-life.
RedPop, on the other hand, was bred in Italy by CIV. Its flavours reportedly range 'from plum to elderflower to dried fruit and honey sweetness'.
Also deep red on a yellow background, it is smaller in size with a slightly striped appearance.
It is also the result of crossing two varieties: Gala and Coop39, the latter better known in the market as Crimson Crisp.
According to CIV, the apple is 'sweet and crunchy' with similarly strong storage and shelf-life potential. It will be harvested much earlier – from mid-August to mid-September – and sold from January to August.
Vog has established organic production of both varieties.
More information on Giga, RedPop, and Cosmic Crisp can be found here.