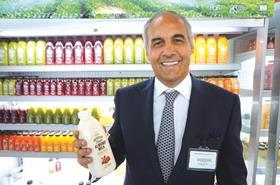 Portuguese firm GL says it sees huge opportunities to increase sales of fresh, natural juices and smoothies in the European market, as people become more and more interested in consuming fresh and healthy products.
Having become just the second company in Europe to invest in high-pressure juice processing technology around five years ago, GL can now offer products with a shelf-life of around 60 days – far beyond what it managed two decades ago when it first began selling juices.
Nowadays, it produces its own fruit and vegetables to guarantee it has the volume it needs and, according to owner Douglas Gilman, the company's decision to get into juice has turned out to be a very sensible one indeed.
"The key is to look directly at the needs of the market and take a marketeer's approach, not just a grower's approach," he explains. "You cannot just do what your grandfather did and your father did."
His ancestors would no doubt be proud of the double-digit growth the company has squeezed out of the juice business in each of the last ten years.
"This past year in particular, the growth we've seen has been enormous because we're selling to more markets," Gilman reveals. "When we started out, we sold in Portugal and Spain. Now we're in Europe and Asia. Health is the biggest driver by far, especially for women and younger generations who are showing they don't want sugar but real, fresh ingredients in the juices they buy."
Marketed under its SoNatural brand, the company's range includes drinks made from a variety of fruits and vegetables, as well as a number of other fresh ingredients such as almond milk, which it recently launched on the European market.
GL also has a sizeable private label business, supplying juices to the likes of Ikea in Portugal and Italy, Starbucks in Portugal and Spain, Prêt A Manger in France and the UK, and Delhaize in Belgium.