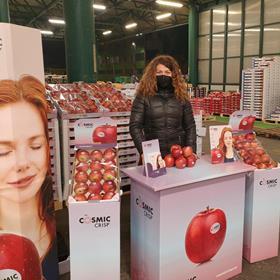 The first commercial trial campaign for the Cosmic Crisp has got off to a flying start according to Südtirols' VOG and VIP consortia, which hold the exclusive license to market the variety in Europe.
Wholesalers said the first tastings have generated an overwhelmingly positive response, and levels of demand are already high.
Officially presented in late January at the 2021 Apple Summit, the variety is a cross between Enterprise and Honeycrisp and stands out for its juiciness, firm crunch and balanced flavour.
The apple is being marketed under the slogan "Divine pleasure. With every bite" to highlight its naturalness and exclusiveness.
"We are really pleased with the initial feedback we have collected from many expert professionals in the wholesale markets,"said Klaus Hölzl, sales manager of the VOG Consortium.
"Cosmic Crisp is popular for its texture and for the explosion of flavour and intensity apparent from the very first bite".
The first trade marketing activities have focused on tastings so that greengrocers and wholesalers can familiarise themselves with the variety.
"We have also distributed illustrative materials that they can use in their shops to communicate the qualities of this incredible apple to consumers," Hölzl said.
VOG and VIP have set aside 500ha of land for the cultivation of the variety and plan to introduce greater volumes onto the market in 2021/22.
"Cosmic Crispis an apple with an excellent shelf-life and is perfect for the second half of the sales season, from February through to August", said Fabio Zanesco, sales director of VIP.
"This year we began with the first 100 tonnes, a clearly limited amount but ideal for this launch phase which enables us to receive lots of useful feedback, as has been the case in the last few days.
"As of next season we will gradually ramp up both distribution and sales thanks to the availability of increasing volumes that will enable us to satisfy the already high level of demand."