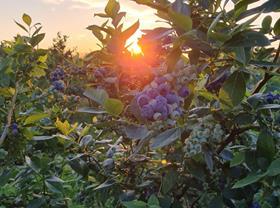 Baltic Berry has made sustainability a priority, with the Polish berry group taking strides in packaging, energy and varietal development, according to export manager Joanna Sapala.
"We have introduced heat sealing to extend our packaging options," Sapala told Fruitnet. "This is important to some customers because of global environmental trends, minimising the use of plastic.
:Conservation is important to us so we contribute by introducing solar panels to optimise the use of energy, and we have introduced new blueberry varieties to ensure good quality fruit, in turn minimising food waste."
In terms of new varieties, Baltic Berry has tried the likes of Cargo and Valor, and has seen good quality and sizing.
These cultivars also produce firm, healthy berries with prospects of a long shelf-life, Sapala said. "We haven't tried them on a big scale yet but they seem very promising."
For the season ahead, the group is expecting a positive one in terms of fruit size and volume, the result of favourable weather conditions as well as increased plantings and good pruning.
Volumes are crucial given the growth of export markets, although competition is fierce.
"Generally all markets are constantly growing, foreign as well as domestic," Sapala noted. "However, global supply is also growing, providing competition in the market. It is more important than ever to maintain high quality and safety of the fruit and react to market requirements."
The rise in domestic and international blueberry consumption is set to continue, according to Sapala, driven by the fruit's taste and also an increased desire to eat healthy. Indeed, the Covid-19 pandemic has only strengthened the desire for healthier foods, she added.