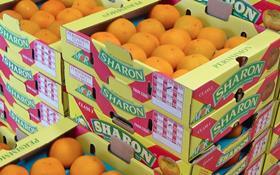 Belgian produce giant Greenyard has acquired a 49 per cent stake in Mor International, the Israeli exotic fruit specialist, in a highly significant move that underlines the potential many see to grow sales of products including avocados, mangoes, persimmons and pomegranates.
Announcing the deal, for an undisclosed amount, Greenyard said the move would significantly boost its sourcing of high-quality exotics and revealed it also had an option to become majority owner in the future.
With sales of around €50m last year, Mor International is a well-known player in the Israeli fruit export business, led by its highly influential chief executive Meir Ben-Artzy.
Working with customers around the world, it also operate sourcing programmes from other parts of the world to deliver year-round supply – most notably, it was responsible for creating a counter-seasonal supply base for persimmons (known as Sharon fruit) in South Africa.
Crucially, Mor has a number of long-term relationships with important growers, both within and outside Israel. "As such, the company is ideally positioned to reinforce Greenyard's strategy to build a direct connection with the grower via programmed growing, ensuring a high-quality and freshness for the consumer," Greenyard said in a statement. "Furthermore, Mor enables Greenyard to enlarge the geographical spread and sourcing capabilities."
Greenyard chief executive Hein Deprez said the move would strengthen its produce offer to food retailers and foodservice operators, a business which nowadays involves the supply of more than three million tonnes of fruit and vegetables per annum.
"With Mor International, Greenyard further strengthens its leading position and enhances the availability, quality and variety of the product offering," he said. "Moreover, Mor International will further help Greenyard in its goal to increase consumption of fruit and vegetables. Hence, the transaction implies an increased focus on our strategy and priorities to continue generating profitable growth and strengthening our global leadership position in fruit and vegetables."
The news comes as Mor's South African persimmon season is about to get underway. Harvesting starts next week and the first major shipments will take place before the end of the month.