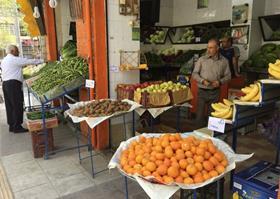 In Iran, inflation hit 45 per cent last month, its highest point since 1994, according to a report last month from Associated Press, sending food prices soaring by almost 60 per cent.
As US sanctions continue to strangle the Iranian economy, despite some optimism following the election of Joe Biden, inflation is decimating salaries and savings. Meanwhile, Covid-related disruptions to the supply chain and steadily declining local production are exacerbating the situation.
The cost of vegetables has reportedly risen by 70 per cent, with similar increases seen on meat, milk and eggs, and the cheapest basics like bread and rice increasing by more than 50 per cent, according to the government statistics agency.
Associated Press quoted Iranian shoppers coping with ever-increasing grocery prices, with many cutting meat and dairy purchases and shopping "less than ever before".
Smaller grocery stores are also struggling to survive, in part due to the rise of major chains and online shopping, as well as increasing rents, low profit margins and fewer customers.
GDP fell by nearly 60 per cent between 2017 and 2020, according to the Chamber of Commerce, with its head Gholamhossein Shafeie calling it a "serious warning for the future of Iran's economy".